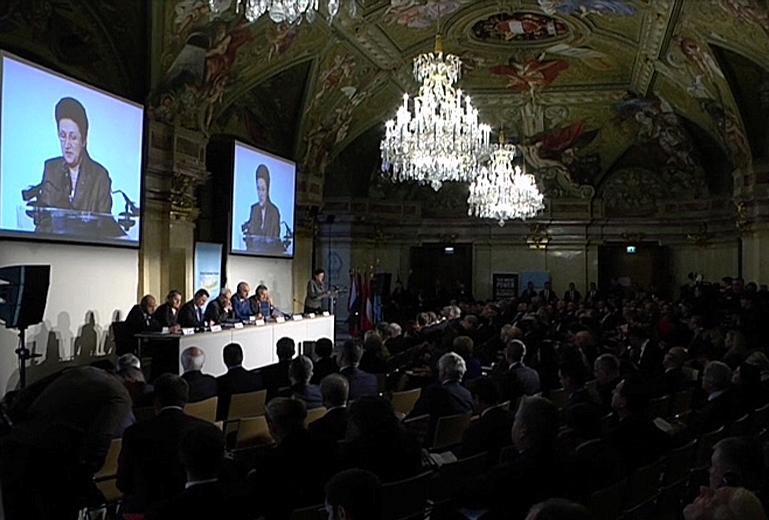 Tirana, November 24, 2014/Independent Balkan News Agency
Albanian PM, Edi Rama has held a speech (photo) today in the Vienna Economic Forum and the central topic this year is "Visions and responsibility at a time of changes".
Rama said that there's a new positive climate in the Balkan, like he said, backed and encouraged by the Berlin Process. But, said the PM, in order for this new situation to be sustainable, it also requires a new level of cross regional economic cooperation.
"It's clearer and clearer that what we need and what we cannot secure through our means, separate from each other, are projects on a regional level; projects on infrastructure, projects relating to energy security and tourism and even more, things which will make investors have more faith and will make the region more attractive for big investors. Politically, so far we have made it, but we must also make it economically and this must be done alongside Europe. The peace that we have must be transformed by us into a peace worth living and a peace worth living cannot exist without projects that make it worth living".
Mr. Rama wanted to assure the public opinion that in its philosophy, the Albanian government believes that the prosperity of the region as a whole, requires orientated coordination toward clear projects.
"What we need from now on is to focus in our countries and the region, in result driven projects through targets and clear deadlines", said Mr. Rama.
Speaking on Albania, the PM said that the government came up with a new approach for the economic development and that this approach, along with the reforms undertaken, brought positive results within a year.
"Thanks to a number of reforms and a change in the government approach toward business, Albania made a significant progress within one year in the Doing Business Report: we gained 40 places."
For PM Rama, cooperation, sustainability and creativity are crucial to turn our region into a very large market and make it even more attractive.
"But, beyond our personal achievements, the region must more and more represent a very large market and must make a big change if we offer predictability, sustainability and find more creative ways in order to make the region interesting."
Vienna Economic Forum was founded in 2004 as a platform to promote economic cooperation between countries of the Adriatic Sea and the Black Sea. Present in this forum were prime ministers from the region, such as PM of Albania, Bosnia, FYROM, Montenegro and Austria, Heinz Fischer.
In cooperation with enterprise and important multilateral financial institutions such as EBRD, they discussed over the latest economic developments in the region and beyond.
A special session of this forum is dedicated to energy efficiency and technology of information and their impact over economic development, with the participation of Ministers of Economy of Albania, Turkey, FYROM,  Kosovo, Croatia, etc.
This is the second time in a few months that PM Rama travels to Vienna. /ibna/