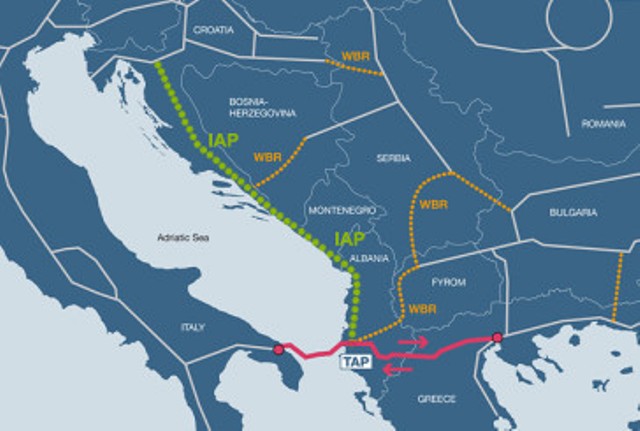 Tirana, 30 August 2016/Independent Balkan News Agency
Ionian Adriatic Pipeline (IAP), 516 km long, from Albania to Croatia, will be built by Azerbaijani company, "Socar". The memorandum between Albania, Croatia, Montenegro and Bosnia and Herzegovina and "Socar" has been signed during the proceedings of the Croatia forum, which was held in the recent days, Trans Adriatic Pipeline (TAP) informs.
The preliminary agreement between Albania, Croatia and Montenegro has been reached in 2007.
Ian Bradshaw, Managing Director of TAP, said: "The MoU enhances energy cooperation across South East Europe and is an important step towards energy security and diversification in the region".
Bradshaw ashures that "TAP remains committed to facilitating connections to key gas infrastructure in the region, including the Ionian Adriatic Pipeline and the Interconnector Greece-Bulgaria".
TAP will transport natural gas from the giant Shah Deniz II field in Azerbaijan to Europe. The 878 km long pipeline will connect with the Trans Anatolian Pipeline (TANAP) at the Turkish-Greek border at Kipoi, cross Greece and Albania and the Adriatic Sea, before coming ashore in Southern Italy.
TAP's routing can facilitate gas supply to several South Eastern European countries, including Bulgaria, Albania, Bosnia and Herzegovina, Montenegro, Croatia and others. TAP's landfall in Italy provides multiple opportunities for further transport of Caspian natural gas to some of the largest European markets such as Germany, France, the UK, Switzerland and Austria.
The Adriatic-Ionian Pipeline's primary objective is to transport 5 billion cubic meters of gas every year from Azerbaijan to Southeastern European countries. It will also aim to connect the Trans-Adriatic Pipeline with the central European gas network.
The project, which aims at building a wide network of gas from Fier to Split, Croatia, will have a total cost of 610 million Euros.
250 km from this pipeline will go through Croatia, 167 km will be built in Albania and 94 in Montenegro. Bosnia and Herzegovina will only be involved through the port that it has on the Adriatic. /balkaneu.com/