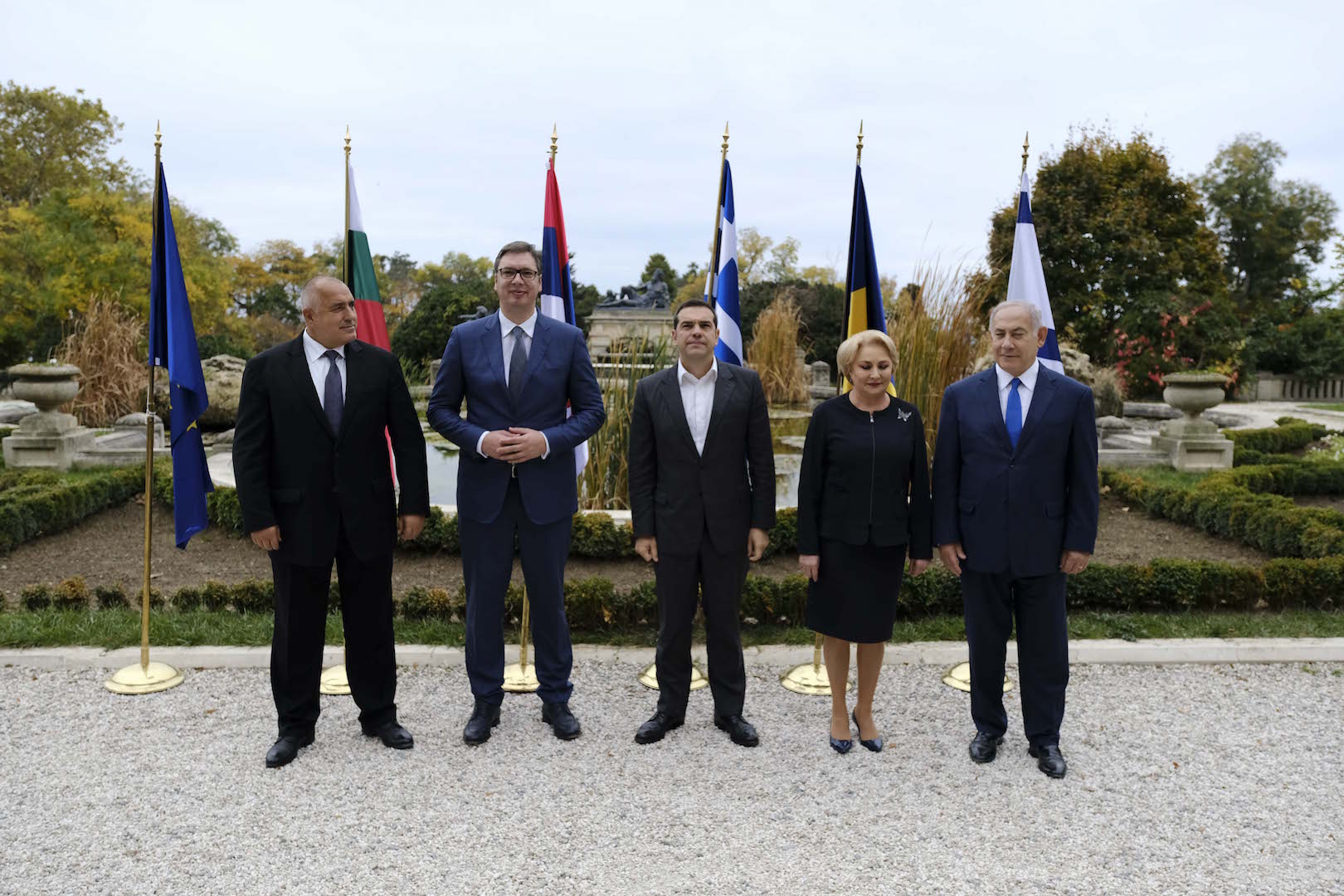 The 5th Quadrilateral Summit of Greece, Bulgaria, Romania and Serbia was concluded in Varna on Friday 2 November -with the participation of the Israeli Prime Minister Benjamin Netanyahu- with a working lunch hosted by Bulgarian Prime Minister Boyko Borissov at the royal summer palace of Euxinograd.
The four leaders Aleksandar Vucic, Alexis Tsipras, Boyko Borissov and Viorica Dăncilă have certified the institutional framework of the four-way co-operation that, with its dynamics, promotes security, co-operation, and strengthens confidence in the wider region.

Transport interconnection through a ring road and rail lines linking all the Balkan countries together and ending in the ports of Greece and Bulgaria topped talks.

In this context, a joint Greek-Bulgarian company was decided to be set up for the implementation of the Thessaloniki-Alexandroupolis-Burgas-Varna-Ruse rail link project. The completion of the Thessaloniki-Sofia and Alexandroupolis-Black Sea motorways was also agreed. The agreement on the interconnection of Greece with Serbia will lead to the signing of a memorandum with fYROMacedonia after the Agreement on the rail connection.

(From L to R) Alexis Tsipras, Aleksandar Vucic, Boyko Borissov, Viorica Dăncilă
The four countries agreed, on a proposal by the Greek Prime Minister, that this quadrilateral summit should not be limited to transnational relations but also to cultivate contacts via a bottom-up approach between universities, organisations, etc.
In order to strengthen the four-party co-operation, talks have begun to establish a European Territorial Co-operation Group in Thessaloniki, which will co-ordinate these initiatives.

Participation of the Israeli Prime Minister Benjamin Netanyahu in the quadripartite initiative attaches importance to regional prospects, the energy bit of  EastMed but also to the export of Israeli gas to the Balkans and Europe.
Alexis Tsipras (second from L) and Benjamin Netanyahu (second from R)
This was one of the issues discussed in bilateral co-operation talks among Alexis Tsipras and Benjamin Netanyahu. The two leaders also discussed the upgrading of Thessaloniki's role as a Balkan innovation centre with a strong involvement of Israeli companies active in the field, aiming to strengthening the traditionally (strong) ties of the city with Israel.

The next quadrilateral summit will take place in Belgrade, and Chancellor of Austria Sebastian Kurz is expected to take part, following a proposal by Serbian President Aleksandar Vucic, thus broadening the four-party initiative and strengthening its role within the EU for its empowerment said Bulgarian Prime Minister Boyko Borissov.
Alexis Tsipras's proposal for a joint bid of the four Balkan countries for the organisation of the World Cup in 2030 was warmly received….. / IBNA
Alexis Tsipras
Main Photo (from L to R): Boyko Borissov, Aleksandar Vucic, Alexis Tsipras, Viorica Dăncilă, Benjamin Netanyahu, November 2, Varna