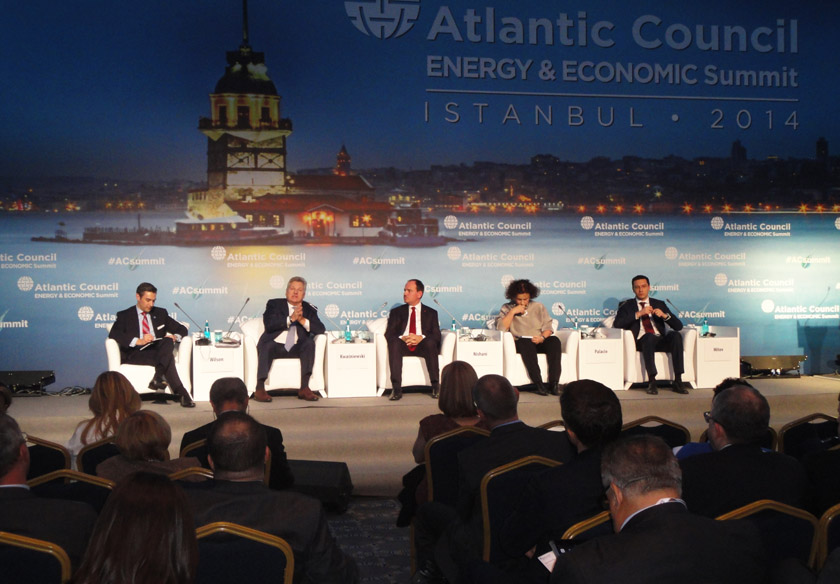 Tirana, November 21, 2014/Independent Balkan News Agency
Citizens of the Balkan are more and more being seduced by financial and spiritual promises made by IS (Islamic State) to be mobilized in Syria and Iraq, says the Albanian president.
Mr. Bujar Nishani says that the Balkan countries are trying to prevent the danger coming from this process of recruitment. He says that "several hundreds of foreign fighters, seduced by empty financial and spiritual promises, are being temporarily mobilized within the ranks of ruthless extremists of IS".
Mr. Nishani said that a special war is taking place on a daily basis for this, "by adopting and implementing a new legal framework and enabling coordination between different law enforcement and counter-intelligence agencies of EU and NATO member countries, closely collaborating with partner agencies of our strategic ally, United States of America".
Mr. Nishani made these declarations on the 6th Summit of the Atlantic Committee for Energy and Economy (photo), which is being held in Istanbul with the presence of high state leaders. The Summit aims at promoting cooperation between the Trans Atlantic community in order to address challenges that relate to energy, economy and politics and to boost cooperation in the region.
President Nishani addressed the participants in the plenary session of the Summit and focused a lot on global issues, where the IS issue dominated.
"Another hot point in the Middle East, Syria continues to be a growing concern", said Nishani, by stressing: "Albania believes that Bashar Al Assad doesn't have a future in Syria, because by committing cruel actions typical of a dictator without future, he has lost his legitimacy to govern the country and his people".
As far as Iraq is concerned, Nishani said that "Albania has always praised the efforts of the international community in the stabilization of the situation in Iraq and the enforcement of law and order in the entire territory. Albania has expressed its deep concern about the deterioration of the security situation in Iraq and strongly condemns the terrorist attacks".
Nishani continued by saying that "the objective has not been to found an Islamic caliphate, because many of the attacks and inhumane executions have been carried out against their Muslim brothers, but the objective has also been to enrich a group of radical extremists, without any religious or social ideology". /ibna/