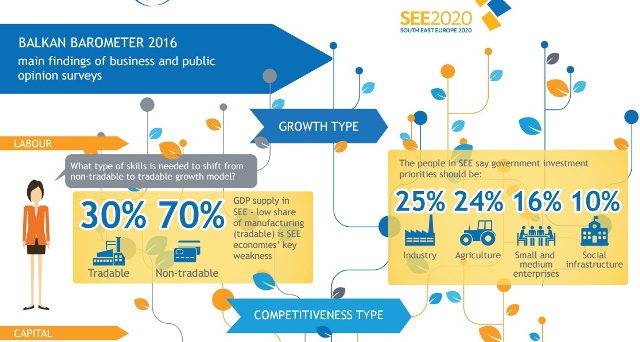 Albanians are among the most optimistic people in the region in relation to their expectations from the process of European integration and the benefits stemming from the EU accession.
Over 81% of Albanian respondents believe that EU accession is a good thing, while in Southeast Europe, this figure is almost half, 39%.
"Balkan Barometer 2016" was prepared by the Regional Cooperation Council in collaboration with the Friedrich Ebert Stiftung.
The study which IBNA brings you in full below has been carried out with 8 thousand people and 1800 companies in all of the region.
The barometer was presented at the Albanian Ministry of Foreign Affairs in Tirana.
"The European Commission has recommended the launch of talks with the European Union, therefore I am glad that Albanians are the main supporters of the process of integration in the EU", said the Albanian Foreign Minister, Ditmir Bushati. Bushati congratulated RCC for the activities undertaken in the path of the region toward the EU.
The figures issued by "Balkan Barometer 2016" show that the economies of the region have started to recover. However, for RCC Secretary General Goran Svilanovic, the message is clear: "The region has still a lot of work to do in order to address many issues and to continue economic growth".
"Balkan Barometer 2016" shows that corruption is an important issue for Southeast Europe. On a regional level, 27% of respondents said that corruption is one of the biggest problems. In 2014, this figure was 15%. The answers given by respondents indicate that they are ready to act in order to stop corruption, but most of them believe that their government is ineffective in the fight against corruption.
***
"Balkan Barometer 2016" is considered by experts as a complete study which relates to stances, experiences and perceptions of the public and business community in Southeast Europe on different economic, social, political and cultural matters. /balkaneu.com/
Infographic Balkan Barometer 2016
Balkan Business Barometer 2016