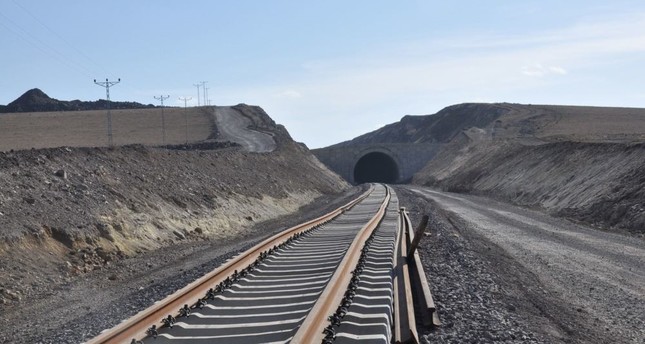 Transportation Minister Ahmet Arslan revealed today that the Baku-Tbilisi-Kars (BTK) railway project, the first official train service to connect Turkey, Azerbaijan and Georgia will be inaugurated October 30.
The 826-kilometer (513-mile) long railway was built under an intergovernmental agreement between Azerbaijan, Georgia and Turkey
Turkish President Recep Tayyip Erdogan, Azerbaijani President Ilham Aliyev and Georgian Prime Minister Giorgi Kvirikashvili will be aboard the first train that will depart from Azerbaijan's Baku to Turkey's eastern Kars province, according to Anadolu Agency.
Arslan called the railway line the "Iron Silk Road" and said it would create significant added value to countries in the route and the region.
"It will help the region's economy to be boosted and products to reach target markets", the Transportation Minister said.
According to the Turkish minister, the international cargo capacity is expected to reach 50 million tons per year through the corridor, while it is estimated it will serve a billion passengers and will have 6.5 million tons of freight capacity when the line becomes operational./IBNA