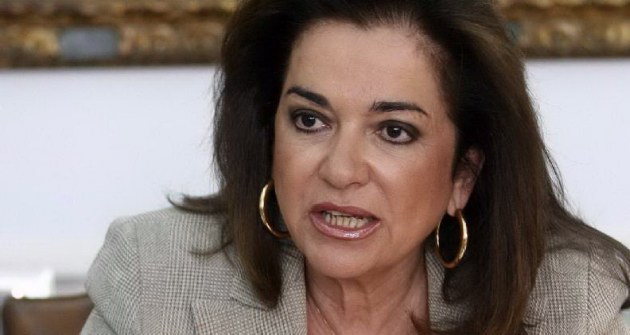 By Spiros Sideris – Athens
Her concern expressed New Democracy Regional MP Dora Bakoyannis for the conditions in PASOK and the moves announced by Giorgos Papandreou after his meeting with the president of PASOK Evangelos Venizelos.
"I am concerned by developments in PASOK", adding that "the internal problem of PASOK, may turn into a government stability problem", but added: "I hope that in PASOK they will act wisely and will make judgments based on the national interest" .
Asked to access the stance the former prime minister will keep during the election of the President of the Republic, Mrs. Bakoyannis made the assessment that "Giorgos Papandreou, as a Member of the Greek Parliament, is bound by the commitments of PASOK" .
In her interview, Bakoyannis for the first time appeared cautious towards the country's European partners, leaving hints for "games on the backs of the Greek people" and for conditions that make 2014 remind of 2012.
"If for any reason the Europeans have decided that they can serve their political expediencies by "burning" Tsipras and turn Greece into a scarecrow to weaken the populist extreme parties currently plaguing Europe… then they must tell us", she says in an interview in the "Kathimerini".
The former minister considers it very difficult to extend the current program and, therefore, considers as the best possibility for Greece to complete the evaluation, while insisting on the need for a consultation between the parties: "The Prime Minister should pick up the phone and if SYRIZA decides to undermine the communication, it should be held accountable".
She also argues that, concerning SYRIZA MP C. Stathakis' proposal on an agreement for electing the president and for elections on spring, "could be a basis for discussion, if we agree that the stability and future of the country come first".
Finally, Bakoyannis insists that ND no longer "speaks" to half of its traditional voters, leaving spikes for the leadership of New Democracy for its options in the political chessboard.
Dora Bakoyannis has kept a detached stance from several choices of the Samaras government recently. Some estimate that Bakoyannis expects the failure of Samaras, from whom she lost the internal party elections in 2009, so that she could take over the reins of the party of New Democracy.