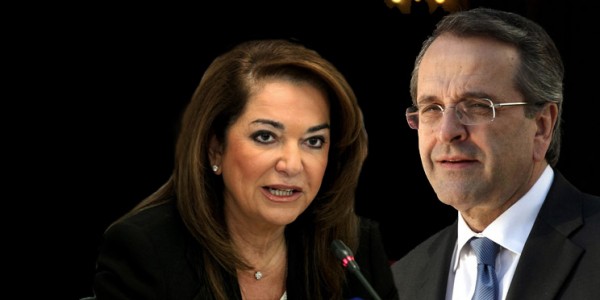 Athens, July 6, 2015/ Independent Balkan News Agency
By Spiros Sideris
Dramatic conversation took place on Saturday night between Antonis Samaras and Dora Bakoyannis when she asked him to facilitate developments by submitting his resignation from the leadership of New Democracy.
Circles of Syngrou give the following answer: "We leave Mrs. Bakoyannis to the judgment of the Greek people".
Reportedly, Mrs. Bakoyannis, seeing the climate that had formed ahead of the referendum, but also taking into account the pollsters facts after each appearance of the president of ND, deeply concerned she phoned the head of the opposition and said:
"Antonis, your presence is detrimental for the party and the prospect of the country. It is better to quit immediately and to facilitate the situation. Indeed, to prove to you that I have no ambition, I quit together will you".
"You're kidding, of course", was the answer of Antonis Samaras.
When Dora Bakoyannis tried to respond, the president of ND retorted again: "You must be crazy"…
Many memebrs of ND speak openly of internal party developments, attributing them to Antonis Samaras' serious responsibilities for the outcome.
Indicative of the situation are the tweets of Nikos Dendias, who leaves spikes for the leadership of ND on the outcome of the referendum.
Naturally, a defeat of the 'YES' that supported the leadership of New Democracy will cause rapid changes in leadership of the opposition and the removal of Antonis Samaras.
What's interesting is that despite the fact that the above phone call took place on Saturday night, it only became known after the closing of the polls on Sunday.
update
Following the defeat of 'YES' in the referendum, Antonis Samaras announced late last night that he resigns from the presidency of New Democracy effective immediately. He said he asked from MP Vassilis Meimarakis to take over as interim president to facilitate the change in the leadership of the party.