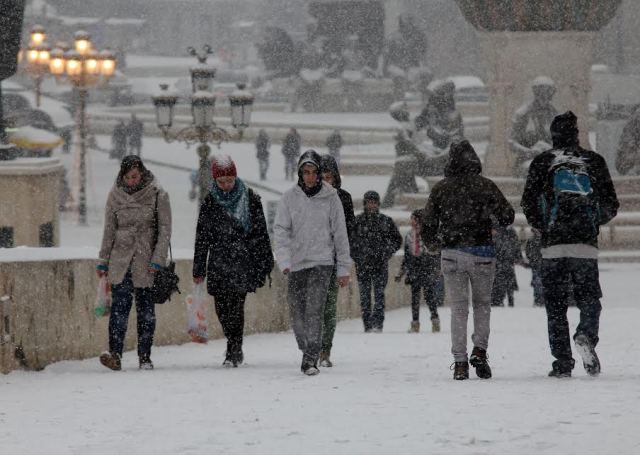 IBNA Special Report
Skopje, December 29, 2014/Independent Balkan News Agency
By Naser Pajaziti
The heavy snowfall has blocked roads and isolated remote areas in the mountains. The snow has blocked road segments linking Ohrid to Kercova, the border crossing point of Qafe Thane with Albania, but there are also difficulties in other border areas such Nazince with Kosovo and Deve Bair with Bulgaria.
Authorities have not allowed heavy vehicles to circulate in high altitude areas.
Due to the heavy snowfall, roads linking Ohrid to Kercova and Skopje to Veles have been blocked for 10 hours. These roads were blocked as a result of accidents, which led to queues up to 10 km long.
The communes of Ohrid and Struga have mobilized as of last night their snowplows in order to remove the snow and clear the road segment linking Kercova to Ohrid. The movement of some of the vehicles was made possible, but not for some others who ran out of fuel. Nonetheless, all the passengers managed to be evacuated and taken to Ohrid and Kercova.
In the early hours of the morning, authorities also cleared the road linking Skopje to Vesel.
Last night, the government issued a warning for the bad weather and formed an emergency committee, by mobilizing all institutions in order to overcome the situation with the heavy snow and road blocks.
"The crisis committee must mobilize all institutions to clear roads and bring back power supply. We're ready to face all problems that may appear", declared PM Nikola Gruevski.
As a result of the bad weather, there have also been damages in the power supply line. There have been power shortages in Struga, Ohrid and Diber. The power supply corporation says that works continue in order to repair the damages that have been caused.
Several flights have also been cancelled in "Alexander the Great" airport.
On the other hand, several communes have suspended classes and shut down schools. Such decision has also been taken by the mayor of Struga, Ziadin Sela, who ordered the closing of schools due to the bad weather, the lack of power supply and drinking water. "As a result of this situation, we're obliged to suspend the learning process until the situation comes back to normality", said Sela.
Health centers in Skopje and Ohrid have reported admitting tens of patients with body injuries as a result of the bad weather. Skopje's hospital has reported for 20 people with wounds as a result of car accidents, while similar figures have also been identified in other places.
The weather center in Skopje has warned polar temperatures of up to minus 15 degrees Celsius starting from tomorrow. The government emergency staff has called on the citizens to avoid traveling in the roads of the country, especially in mountainous areas. /ibna/