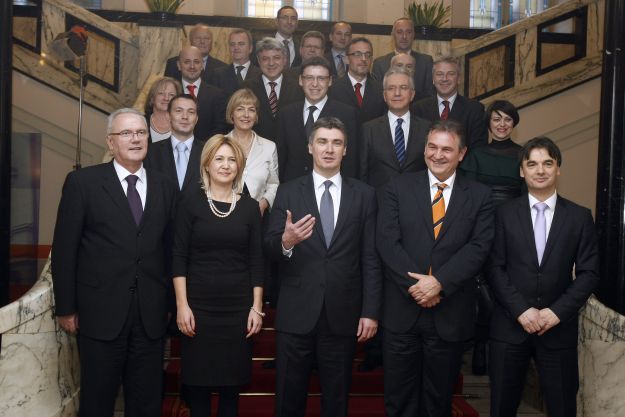 By Marija Avramovic – Zagreb
Croatian government yesterday held a final session for the first half of the year after which Prime Minister Zoran Milanovic and ministers went on a vacation that will last until August 18. This year none of the ministers will be left 'on duty' in the cabinet.
This government's results can be summarized in the fact that Croatia is the only country of the new EU members, which will in 2014 see a drop in its GDP, after the sixth year in recession, during which time it lost almost 13% of its GDP. Unemployment is at a level of about 17% and among young people it is almost 50%.
A difficult task awaits the government in the autumn – the revision of the budget with the majority of ministers agreeing there is no room for cutting the budget of their ministries, which announces tough negotiations with the Ministry of Finance about the forthcoming budget revision.
Deputy Prime Minister and Minister of Regional Development and EU Funds Branko Grcic said that the rebalancing is necessary in order to repair flood damage in eastern Slavonia, which amounts to more than a billion kuna (almost 131 million euro). Another problem is the somewhat lower than expected revenues from VAT, he said, adding that discussions with all ministers on the savings of the state treasury are in order.
At yesterday's session, the government accepted the report on the implementation of the flood control and sanitation in Vukovar County, and the deputy interior minister Evelin Tonkovic recalled that two people died in the flood.
The floods have devastated three Slavonian municipalities, with the damage exceeding 1.2 billion kuna; 19 public buildings have perished, damage to the infrastructure is over 220 million kuna and about nine thousand people were evacuated, Tonkovic added.
At the last summer session the government also accepted the plan for the implementation of specific recommendations for the member states of the EU in 2014, in connection to Croatian participation in the European semester.
The plan came after the government sent to Brussels measures to combat the excessive deficit problem, followed by eight key recommendations for faster implementation of reforms from the European Commission (EC).
Key chapters of the Plan are sustainable public finances, the sustainability of the pension system and the health care system, exploiting the potential of the labor market and employment, effective social protection and strengthening the business environment, "wiser" state involvement in the economy in asset management and public enterprises, transparency and fighting corruption and measures to address liquidity and deleveraging and preserving the stability of the banking system.
Government isn't at all in favor of statistics that is relentless. When it is known that the external debt has reached 108% of the GDP, a decline of the GDP by 0.5% in 2014 and that the government's needs for (re) financing its obligations are high and will continue to grow, someone might quite reasonably ask for early elections.