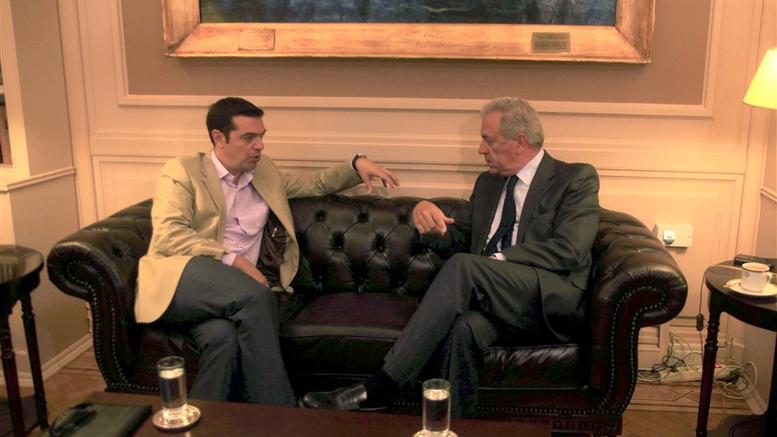 Athens, February 16, 2015/ Independent Balkan News Agency
By Lefteris Yallouros
Greek Prime Minister Alexis Tsipras will announce his proposed candidate for the Presidency of the Republic on Tuesday.
Following the failure of the previous government to elect a new head of state with the required majority of 180 in parliament (which in turn triggered the snap elections in January won by SYRIZA), the new government can elect a new president with a simple majority of 151.
An official announcement was expected on Sunday as the candidacy of Dimitris Avramopoulos (EU Commissioner for Migration, Home Affairs and Citizenship) was considered certain. However, the PM canceled a televised address at the last minute following talks with SYRIZA ministers and coalition partner Panos Kammenos at the Maximos Mansion late Sunday night.
Alexis Tsipras is thought to prefer a candidate from the right-wing that would symbolize national unity. Current EU Commissioner Avramopoulos – with whom Tsipras has good relations – is seen as the ideal person to promote this notion.
However, the premier has reportedly been advised by hardcore left-wing ministers and MPs, such as Panayiotis Lafazanis (the Productive Reconstruction, Environment and Energy Minister) to opt for a center-left candidate instead, especially as the government prepares to reach a compromise with international creditors that will see measures implemented that fly in the face of SYRIZA anti-bailout pledges during the election run-up.
On the other hand, Tsipras is reportedly being advised to propose Avramopoulos, or New Democracy MP Dora Bakoyannis even, by right – wing coalition partner Panos Kammenos.
Government spokesman Gabriel Sakellarides said Sunday that a final decision will be announced Tuesday and a vote will be held Wednesday in parliament. Sakellarides sais the PM will consult the party before announcing his decision while denying objections were raised when the issue was discussed Sunday.
Should Dimitris Avramopoulos be elected President of the Hellenic Republic, Tsipras will have to propose a new Commissioner with MEP Dimitris Papadimoulis and economist Yannis Milios considered possible candidates for the post.