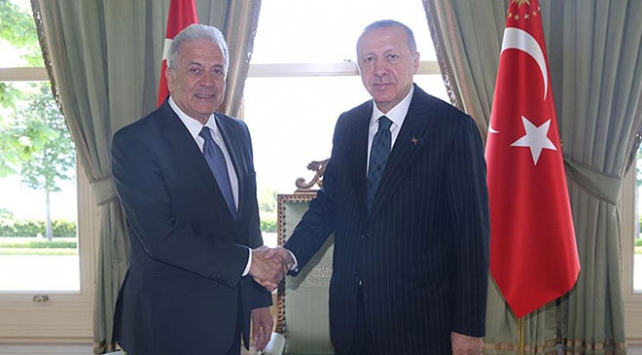 For about two hours lasted the meeting between Dimitris Avramopoulos and Turkish President Recep Tayyip Erdogan on Monday in Cengelkoy on the eastern bank of Istanbul.
The European Commissioner for Immigration, Home Affairs and Citizenship, who visited the Turkish President in a recently-scheduled meeting, officially discussed the refugee problem, security issues and cross-border cooperation.
But Erdogan also maintains a relationship of trust with Avramopoulos, from the time he had been sentenced to many years in prison and the Greek politician had visited him in the prisons of Istanbul. As such, at the meeting of the two men, issues of Greek-Turkish relations, the imminent change of power in Greece, and the relations between Turkey and Turkey, which are also related to the developments in the Cyprus problem, are likely to have been raised.
The talks also featured Turkish Presidency Spokesman, Ibrahim Kalin, and the EU Ambassador to Ankara, Christian Berger.
The Turkish president these days is in Istanbul to celebrate the religious celebration of Muslim bayram, but also to start the election campaign, 20 days before the repetition of the municipal elections to be held on June 23 in Istanbul.
Dimitris Avramopoulos also met with Turkish Foreign Minister Mevlut Cavusoglu, as well as Turkish Interior Minister Suleyman Soylu.
After his trip to Turkey, the European Commissioner travels to Athens and is expected to meet with the President of New Democracy Kyriakos Mitsotakis./ibna