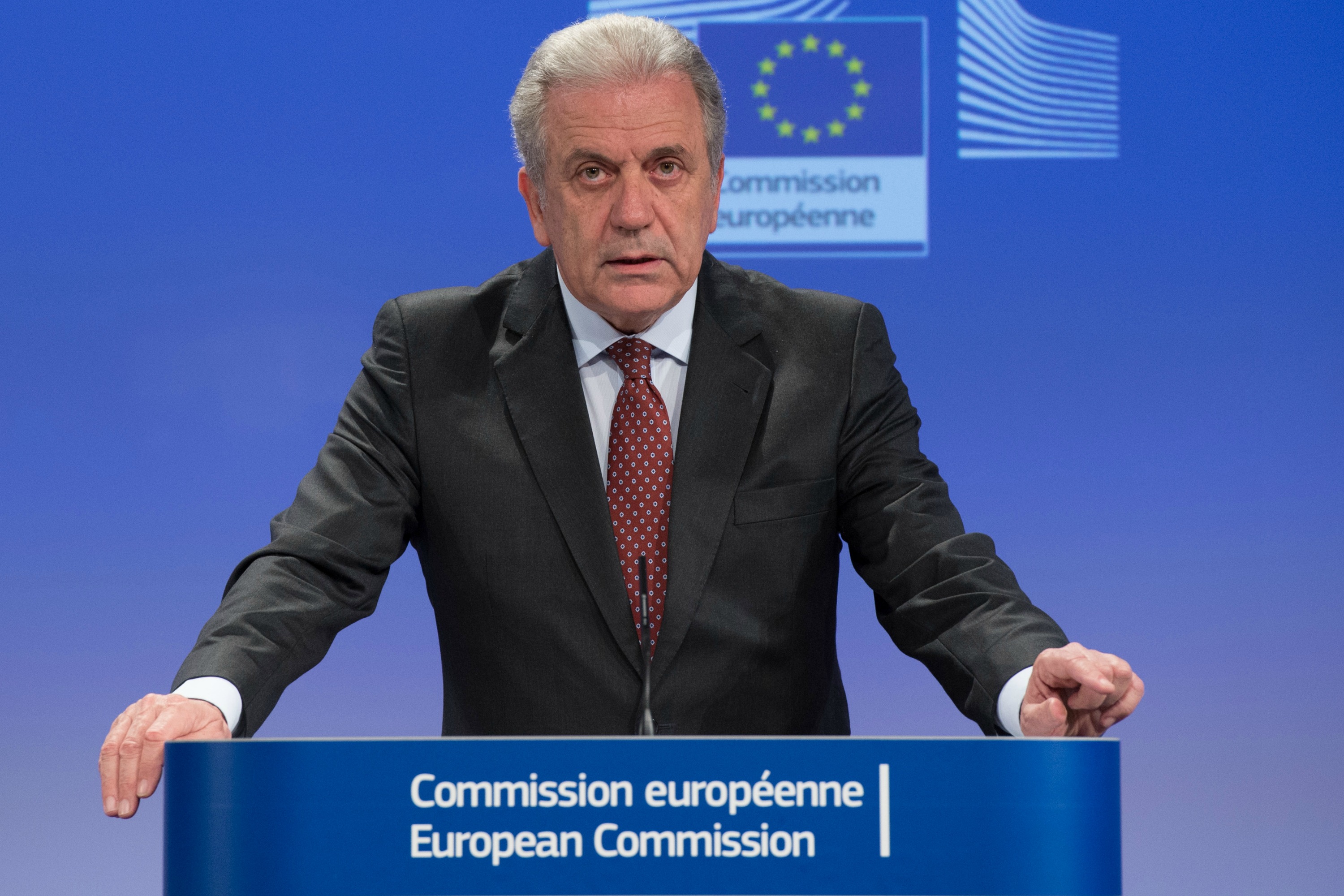 Athens, February 26, 2016/Independent Balkan News Agency
By Spiros Sideris
All member states have the responsibility to implement what has been agreed at European level, the Immigration Commissioner Dimitris Avramopoulos said, warning:  "results within ten days, otherwise Europe is in danger of collapsing".
The Immigration Commissioner said that all member states have the responsibility to implement what has been agreed at European level. He said the situation along the Balkan corridor is very critical, adding that the potential humanitarian crisis is real and very near. "We can not continue through unilateral, bilateral, or trilateral actions", D. Avramopoulos stressed, noting that the first negative consequences are already visible. "We all have a collective responsibility towards neighboring countries within and outside Europe, but especially toward those people who are in despair", added the Immigration commissioner.
He continued by saying that "we can not continue to follow the policy of promoting refugee waves to the next country (wave through policy), we can not put limits on the number of asylum seekers. This is contrary to European and international standards".
D. Avramopoulos said he has asked all Member States to respect the rules. He added that the Commission is working on a contingency plan within and outside the EU in which the IOM (IOM) and the United Nations High Commissioner for Refugees (UNHCR) are involved and which will be ready in the coming days. He stressed, however, that the emergency plan can not replace the previous commitments made by EU countries.
Regarding Greece, D. Avramopoulos said that the Commission is monitoring the situation closely. He added that "Greece has undertaken its obligations, but needs our support to increase reception capacity, with the help of UNHCR and IOM. To those who believe in national solutions on the pretext that the European approach does not work, I say clearly: national actions are those that directly interfere with a European approach", D. Avramopoulos pointed out and concluded by saying that "now is the time for results" and " there is no time to lose".
On his part, the Dutch Interior Minister Klaas  Dijkhoff said shortly after the end of the EU Interior Ministers Council that the EU countries need to jointly address the immigration crisis, along with Turkey and the countries in the Balkan corridor.
The Dutch interior minister said that the Council noted the progress made so far on the implementation of the decisions taken.
In regard with the national measures at the border from some countries of the EU, K. Dijkhoff said he understands the pressure from refugee flows received by these countries, but measures must be coordinated, because they influence the other countries located in the Balkan corridor. At the same time, he stressed that there must be emergency plans and coordination between Member States and to provide humanitarian assistance if needed.