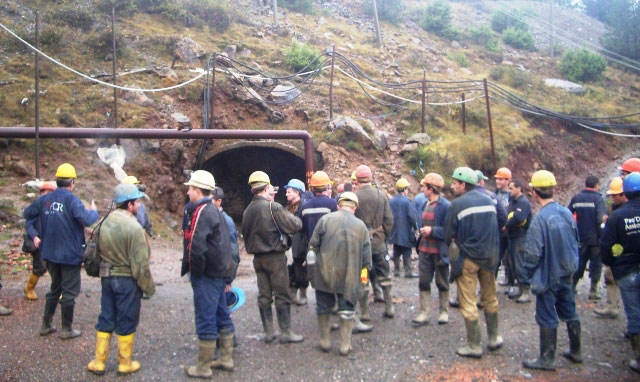 Tirana, March 7, 2014/Independent Balkan News Agency
Minister of Energy and Industry in Albania has decided to suspend licenses for 121 private companies.
The decision has been taken by minister Damian Gjiknuri, official sources from this ministry told IBNA. They said that the structures of the Ministry of Energy and Industry have carried out checks on the subjects which have been issued with licenses to exploit minerals.
Apart from these 121 permits that have been revoked, authorities have also decided to issue fines for several other subjects. They have even published the full list of companies that have been penalized.
The audit identifies breaches
During an audit that has been carried out, authorities have identified cases where subjects that have been issued with licenses to exploit minerals, do not comply with the requirements and they do not pay their obligations to the state.
Based on the audit results, Gjiknuri has signed the revocation of 121 mineral permits, which consist on around 16% of the total of permits which have been issued.
Some of these subjects have had their licenses expired and they have not applied on time to extend them. In general, these subjects result to have suspended their mineral activity, but although authorities have demanded the rehabilitation of the environment damaged by this activity, they have not done this.
Another number of subjects appear to have conducted a normal mineral activity, but they haven't been systematic in the payment of warranties required to exert this activity. These companies have not paid the warranty for the rehabilitation of the environment for 2011 and 2012.
Several other subjects conduct their mineral activity in protected environmental areas while their initial license has expired. They have demanded for their licenses to be extended and this has not been approved by the Ministry of Energy and Industry, as mineral activities are no longer allowed, although this activity continues.
This is the first inspection carried out by the new government and it was focused on the chrome mines. Ministry of Energy and Industry said that it will continue to inspect mines of bitumen and copper.
Mines in Albania are a big source of financial earnings. In the recent years, the authorities have issued around 730 permits and a part of the mining companies, including those whose permits have been revoked today, are known for their ties with the previous government.
The majority of companies that exploit mines work under miserable conditions. Miners complain that they work in difficult conditions and their pays are ridiculous. Mines in Albania have often been an arena of tragic accidents.
On the other hand, mines have also turned  into a bloody conflicts. In the recent years, people have been executed in circumstances that police is still investigating. The victims and the suspects have often been involved in the exploitation of mines. /ibna/