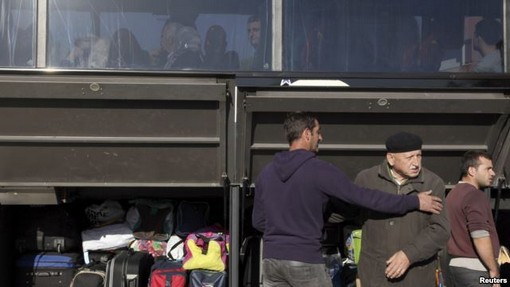 From Skopje for Independent Balkan News Agency, Naser Pajaziti
Skopje, December 6, 2013
Authorities in Skopje are concerned about the growing numbers of people from Former Yugoslav Republic of Macedonia who seek political asylum in the EU countries. Minister of Interior, Gordana Jankulovska said on Friday that measures are taken to reduce the number of non genuine asylum seekers in EU countries. Measures are also being taken to stop those people who cross the border and travel to Western European countries in order to seek asylum.
"We're doing maximum efforts to reduce the number of those people, non genuine asylum seekers who want to benefit the asylum status in the EU. We have applied preventing measures, but also punitive measures for all of those who are part of these unlawful activities that threaten the process of liberalization of visas in the Shenghen countries", declared minister Jankulovska.
Mrs. Jankulovska made this declaration, commenting the concerns over the growing numbers of asylum seekers from FYROM to EU countries in the recent months.
EUROSTAT, growing figures
According to figures from EUROSTAT, this year, the largest numbers of asylum seekers are from Serbia and FYR Macedonia. There's also a growing number of asylum seekers from Bosnia and Herzegovina and Montenegro. This year alone, there have been 47 thousand asylum seekers from Western Balkan countries, countries which benefited from the free visa regime. But EUROSTAT has identified a significant growth of asylum seekers from Albania too.
EUROSTAT says that 15% of the general number of asylum seekers from the entire world comes from the Balkan countries.
The most preferred destinations for asylum are Germany, Sweden, France, Switzerland, Belgium and Luxembourg.
In Germany, the number of asylum seekers from the Balkan in November grew by 143%, while in France it grew by 133%.
Media talks about a return to the visa regime, EU partially suspends visa free traveling
Recently, EU media have paid a lot of attention to the number of asylum seekers. They say that there's a real risk for the possibility of the return of the visa regime for Serbia, which has the largest number of non genuine asylum seekers.
Endangered by this are also FYR Macedonia and Albania.
While it had been several days that analysts had warned this, interior ministers of the European Union decided on Friday that all EU member countries part of the Shenghen Area may suspend when it's necessary the right to move without visas for a particular amount of time.
The decision came as a result of the request made by countries such as Germany and France with the scope of reducing the number of economic refugees who seek asylum for motives of poverty in their countries of origin.
EU member countries do not agree about the social benefits granted to persons who arrive from Romania and Bulgaria.
Meanwhile, Holland and Austria have been reserved toward the opening of borders on January 1, 2014 for workers from Romania and Bulgaria, two countries which became EU members in 2007. As of this day, the citizens of these two countries may seek employment everywhere in the EU, but EU member countries citizens fear that western labor market will be swamped by cheap workers from Eastern Europe.
Romania and Bulgaria have been EU member countries since 2007. Since then, the number of the citizens of these countries who move to Germany has been growing. Frontier control in the border with Romania and Bulgaria will not be lifted for the time being. Germany goes even further by blocking the entry of these countries in the Shenghen area.
How do people apply for non genuine asylum
The largest number of asylum seekers from FYR Macedonia belongs to the Roma community, but even the majority of those who are from Albania or Serbia belong to the Roma and Egyptian community.
How does non genuine asylum work? An Albanian family, which doesn't want its identity to be revealed, has confessed for IBNA the way that they have sought asylum in Belgium.
They say that they have been in Belgium for two years. Initially it was the son, who claimed that his life was in danger in the country of origin. He claimed to the Belgian authorities that he was violated in the town where he was born and lived as a result of a conflict with another family. The young man has claimed that his life is in danger, as well as the life of his family members.
The young man supports his asylum claim through several articles in different newspapers, which he has secured in exchange of a payment. In exchange of a payment, he has also secured other documents which have been asked to him for his asylum case. Once he has undergone these procedures, the young man has managed to be granted temporary leave to remain and brought his family over. He hopes that he will manage to stay there and secure an indefinite leave to remain.
Germany announces urgent measures.
Given these large numbers of asylum seekers, Germany has applied urgent measures and has immediately ordered the refusal of asylum claims. For this, a special police unit for the Balkan has been set up to deal with these cases of asylum.
Switzerland has shortened procedures and a decision is taken within 48 hours for an asylum case, while financial and accommodation benefits have been lifted.
Sweden too has applied shortened procedures in terms of deliberating these demands, while austere measures have been applied in monitoring flights with the Balkan countries. /ibna/