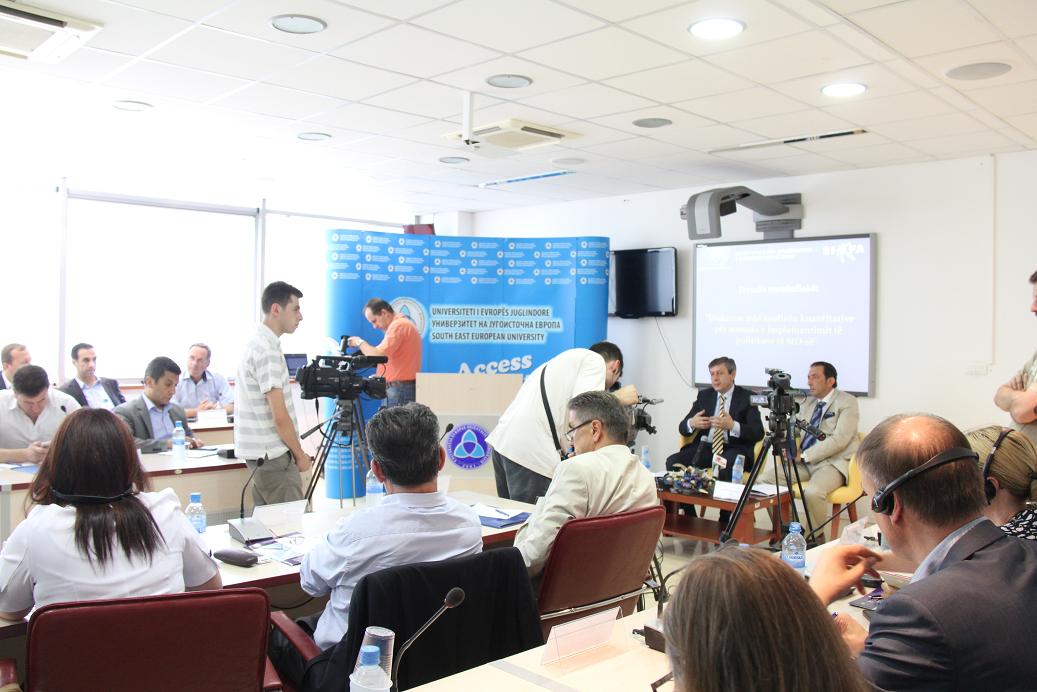 Tetovo, June 17, 2013
The responsible minister for the Ohrid Agreement in FYR Macedonia, Musa Xhaferri admitted today the delays encountered in the plan of implementation of the Ohrid Agreement, which prevented the 2001 conflict between Albanians and Macedonians and offered to Albanians in FYROM more rights.
Minister Xhaferri underlined this in the debate held on the topic "Discussion over the analysis for the implementation of the Ohrid Agreement" at the Southeatern European University of Tetovo. Xhaferri said that the authority responsible for this agreement accepts and welcomes all complaints and criticism that relate to the progress and implementation of this agreement.
"These debates help to listen to the criticism of analysts or institutions to build future policies for the second decade of the Ohrid Agreement.  We want to make these debates in a transparent way, to see all the complaints. In an international conference which will be held from mid August until the beginning of September of this year, we will make a summary of all those priorities or complaints that come from analysits", said minister Xhaferri.
The academic and lecturer of the Southeastern European University, Abdylmenaf Bexheti said that it's time for Albanians to review the budget distribution and the model of the state funding, which is a precondition included in the framework of the Ohrid agreement.
"It's time to review the model of funding, which in a way, is a model which is not based on the generation of public incomes. Albanians are often accused by Macedonians as abusers and of not being good taxpayers. But all measurements show the contrary. I would like to remind you that in a study that we carried out on the 10th anniversary of the Ohrid Agreement, there was no scientific opponence, which means that that Albanians are not like that", said Bexheti.
Univestity professor and analyst Ymer Ismaili partially blamed Albanians in FYR Macedonia for the implementation of this agreement.
"Even Albanians amongst them have different interpretations about this agreement. Not always must Macedonians be blamed. Even Albanians are not of the same opinion about the fact that from a political contract, the Ohrid Agreement must turn into a legal agreement", said the political analyst, Ymer Ismaili.
The meeting that was held in this university is part of a cycle of discussions between academics, experts, university professors, political analysts and other personalities. /ibna/