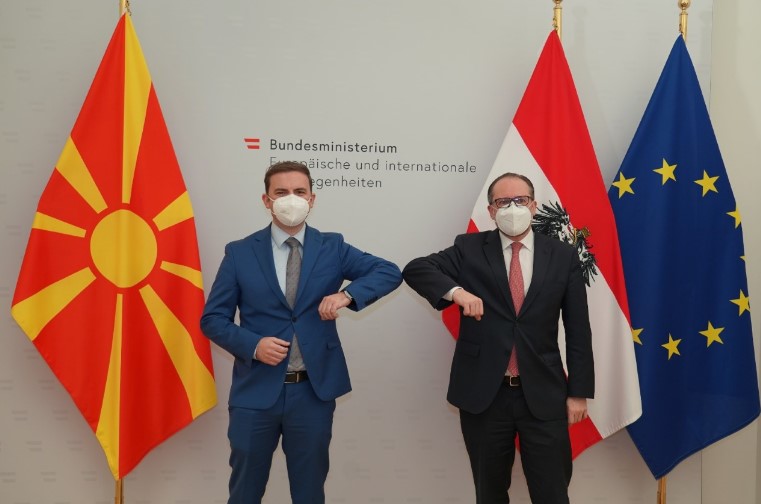 "Austria is very disappointed that no agreement has been reached on kickstarting negotiations with North Macedonia, because our position is that bilateral and historical issues must remain out of the negotiation process. North Macedonia has done what is necessary to start negotiations and I think it would be fair for this to happen as soon as possible," said Austrian Foreign Minister Alexander Schallenberg after his meeting in Vienna with North Macedonian Foreign Minister Bujar Osmani.
"We are very disappointed that we did not reach an agreement on the start of accession negotiations by the end of this year with North Macedonia and Albania," he added.
"From our point of view, from my point of view, that was necessary. To be clear, our position is that bilateral and historical issues must remain outside the negotiation process. You rightly said that the EU enlargement process is a process of Europeanisation, not of division, and that is how it should be. That was our position on the nomenclature issue with Greece, while it was on the agenda," Schallenberg said.
He stressed that North Macedonia is a model country in the accession negotiation process. "You have done everything well," he said, adding that he therefore thought it would only be fair for negotiations with the EU to commence as soon as possible.
"You can count on Austrian support for this issue, because the Western Balkans are part of our security, cultural and economic policy. We do not want to see a blank space on the EU map in the south in the future," he said.
"There is no doubt that we are ready to start EU accession talks and there is no doubt that any delay in starting the talks is a big mistake," said Bujar Osmani.
He thanked Austria for its continued and unreserved support for the European perspective of North Macedonia, including the launch of EU accession negotiations without delay.
"Austria is one of our closest supporters and economic partners, as well as a strong and dynamic supporter of EU enlargement. Austria has strongly supported North Macedonia to hold an intergovernmental conference by the end of the year," Osmani said.
"This visit of mine today is the culmination of a mini-tour around the EU Member States, which are our immediate neighbors in the Balkans and therefore represent our most direct, at least, closest supporters in the process of European integration. This is only reasonable because stability, development and progress in the Balkans are of direct interest to the region's neighbors, including, of course, the Republic of Austria. As immediate neighbors, the neighboring countries have the best understanding, the best knowledge of the situation in the region, which certainly makes their support and opinion even more important," the Austrian Foreign Minister concluded. /ibna