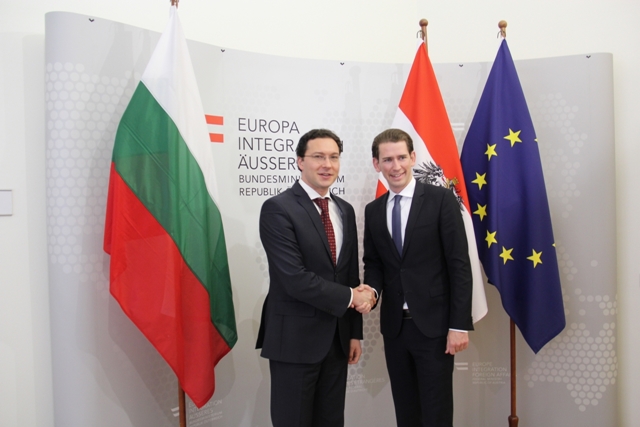 Sofia, June 12, 2016/ Independent Balkan News Agency
By Clive Leviev-Sawyer of The Sofia Globe
Bulgaria has long been a reliable partner in solving the refugee crisis, Austria's foreign minister Sebastian Kurz told his visiting Bulgarian counterpart Daniel Mitov during talks in Vienna.
Bulgaria has been hit hard by migratory flows as an EU external border, an Austrian foreign ministry statement said. Since the closure of the West Balkan route, refugees have been seeking alternative routes.
The two foreign ministers agreed that the growing number of refugees represented a huge challenge for the European social systems and the European labour market.
Bulgaria Foreign Minister Mitov reaffirmed his support for the measures proposed by Kurz, that refugees must not be automatically redirected to Europe, the Austrian foreign ministry said.
In addition, there was agreement that the EU needs to create a fundamentally new asylum system that meets the needs of today.
A statement on the meeting by the Bulgarian Foreign Ministry said that in the context of the migration crisis, Mitov said that Bulgaria was doing everything possible to effectively protect the external border of the EU.
Mitov said that there were three important steps that the European Union must take.
First, the EU must perceive themselves as a whole, all 28 countries together protecting its borders.
Second , the EU needed to conduct an uncompromising battle against human traffickers – it must break the networks that they develop within the EU, and from countries of origin.
"Third, we must unify European-level policies on migration and asylum and to create a common policy on repatriation and return to countries of origin," Mitov said.
The Bulgarian Foreign Ministry statement quoted Kurz as saying: "We have to close the illegal trafficking illegal routes, and to return to a pattern of clear and legally crossing the borders".
In April, Austria approved a controversial new law that restricts the right of asylum and allows most claimants to be rejected directly at the border, the BBC reported at the time.
The new asylum law lets the government declare a "state of emergency" over the migrant crisis and reject most asylum-seekers, including those from war-torn countries such as Syria. It also limits any successful asylum claim to three years.
Austria received about 90 000 asylum applications in 2015. The migrant crisis has boosted support in Austria for the right-wing, anti-immigration Freedom Party, although in May, Norbert Hofer, nominee of the Freedom Party in Austria's presidential elections, was narrowly defeated in a runoff vote.