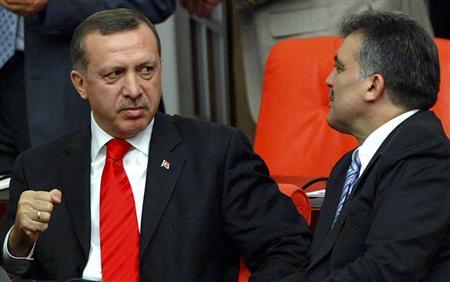 Radikal: "Erdogan has reached an agreement with Gul"
By Manolis Kostidis – Ankara
The final dates of the presidential elections were announced in Turkey.
According to the announcement of the Supreme Electoral Council, the Turkish people will go to the polls on August 10 to elect the country's president. If no candidate receives the required 51% then the second round will be held on August 24.
Favourite for the presidency is Recep Tayyip Erdogan, who according to the front page of the valid turkish newspaper Radikal, has reached an agreement with the current President Abdulah Gul. "Erdogan said he wants to be a candidate and Gul told him "it is your right and I respect that". Essentially, if the news is confirmed, it shows that Gul will not be a candidate.
The turkish newspaper reports that Gul's immediate priority is to lead the Justice and Development Party (AKP) in congress and be elected president of the party.
He cannot automatically be appointed prime minister since he must first be elected MP.
It is the first time the Turkish people will elect their president, since up to 2007 the president was elected by the vote of the MPs in Parliament. With the revision of the Constitution in 2011 the election procedure has changed.
They are looking for Erdogan's successor
Erdogan has already begun meetings with individual MPs of the AKP and discusses his jump to presidency and is looking the name that will succeed him as prime minister until Gul takes over.
It is almost certain that the Turkish prime minister will have resigned by the end of June to start his electoral campaign.
In the municipal elections held on March 30, the AKP received 45% of the votes and as a result Erdogan needs the support of other political forces. With that in mind in the AKP they are discussing the possibility of a cooperation with the kurdish BDP, which received 6.5% of the votes.
Erdogan fears for new scandals revelations
Erdogan in his speech at the party's parliamentary group appeared as if afraid of new revelations of scandals saying that "until the presidential elections there might be provocations and threats as it happened before the municipal elections, but we will deal with all threats".
The Turkish prime minister claims that the financial scandals and kickbacks uncovered was an attempt by foreign forces and the Islamic order of Gulen to overthrow his government.
He however never positioned himself on the substance of the revelations, that is if his ministers who resigned were receiving kickbacks and if there actually were millions of dollars in his residence, which he tried to remove by ordering his son Bilal.
Erdogan's youngest son, Burak, yesterday bought another ship, the sixth of his company, over $16 million.