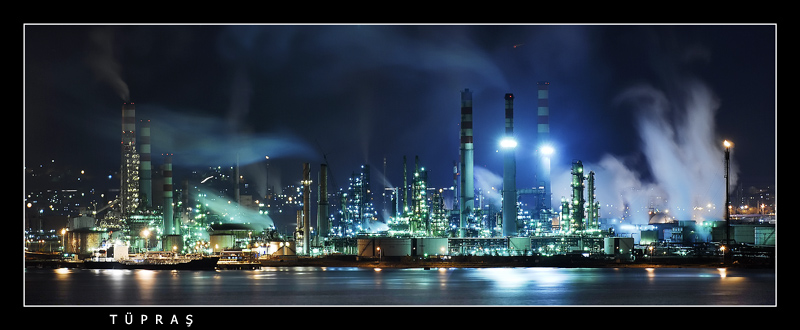 By Manolis Kostodis – Istanbul
An audit is currently underway at the TÜPRAŞ refinery in Turkey. Members of the Financial Crime Squad accompanied by twenty police officers raided the refinery premises to perform thorough checks.
Computers, message exchanges and many invoices have reportedly been examined.
Meanwhile, inspectors took samples from fuel tanks to check for smuggling. The way the raid and audit were carried out has aroused the interest of Turkish media.
The TÜPRAŞ refinery is Turkey's largest industry and is owned by Koc Group, led by Mustafa Koc.
During Gezi park episodes many protestors escaped police violence by taking shelter in the Divan Hotel which is close to Taksim Square and is owned by the Koc Group. While other hotels and business had refused entry to protestors, the Divan had let in many people on its premises. The event was not seen in a positive way by the Turkish government.
Two weeks ago the Turkish press reported there is a possibility that the order of six corvettes by the Turkish Navy placed at Koc Shipyards would be cancelled. The order cost a total of USD 1.5 billion. The official excuse is that there were complaints from competing companies as two companies had been invited to take part in the construction but an open competition was not held.  Objections were filed two months later and in June, when clashes broke out in Gezi park, information was leaked that the order would probably be cancelled.
The Koc Group is Tirkey's largest group and owns the largest industrial units in Turkey featuring in the top ten of largest companies, including appliance maker Arcelik, TÜPRAŞ, car maker TOFAS which constructs vehicles for FIAT and another factory that makes FORD cars. The Group also owns another refinery, AYGAZ. The Group is also the main shareholder of private Turkish bank Yapi Kredi which is Turkey's third largest bank.
Turkish Prime Minister Recep Tayyip Erdogan has said in many of his speeches that some people wanted to overthrow the government through the Gezi Park troubles and made special reference to the "interest rate lobby" without specifying who its members are.
In Turkey there are suspicions that Koc Group in being financially punished.
In 2009 an audit was conducted at the refinery owned by DOGAN which also owned newspapers Hurriyet, Milliyet, Vatan and TV networks KanalD, STAR and CNN Turk. All these media opposed the Erdogan government. Auditors imposed USD 3.7 billion dollar fines for fuel smuggling.
DOGAN was not able to pay the fine and it was forced to sell most of the media it owned and after it had done that, the fine was reduced by 80 pct.