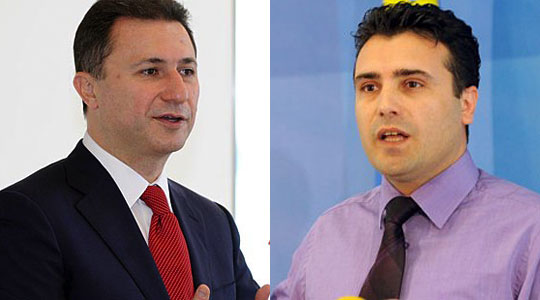 Skopje, April 18, 2014/Independent Balkan News Agency
By Naser Pajaziti
Leader of Macedonian opposition party LSDM (Macedonian Social Democratic League), Zoran Zaev has published today an audio recording with the voice of the prime minister relating to the agreement for the sale of "Makedonska Banka" and the benefiting of 1,5 million Euros in cash.
The conversation was taking place between prime minister Gruevski and the other person had been the intermediary for the bank to be sold to the Serb businessman, Jovica Stefanovic, known as "Gazda Nini".
The recorded conversation which has been published by the opposition leader contains the voice of the prime minister and the scenario for the completion of the sale accord and the withdrawal of the money through legal ways or the payment of the amount in cash.
Leader of LSDM, Zoran Zaev said that in democratic countries, party leaders or prime ministers resign and leave the political scene. "We have an example in the Balkan region, where a prime minister is in jail due to the sale of a bank, namely the former Croatian prime minister. But in Gruevski's case, where he has broken the law, he has evaded taxes and has benefited money in cash, nothing is done and justice institutions do not react", said Zaev.
Prime minister Gruevski's party immediately reacted by saying that this is rigged material. According to them, it's clear that the recorded voice is not that of the prime minister. In a meeting held in the eastern part of the country, Gruevski also commented indirectly the affair for which the opposition accuses him.
"When the opposition saw that it could defeat us through work, commitment and responsibility, it started to launch a negative campaign full of accusations, manipulations and lies. They think that this way, they will manipulate with the people", declared Gruevski.
The opposition leader, Zaev insists on the genuineness of the recording. He said that in order to prove the authenticity of the audio recording, he will demand international expertise from the FBI, CIA or other international investigative bodies.
"Makedonska Banka" was the last bank which managed to survive after the dissolution of former Yugoslavia and was functioning normally even after the independence of the country.
Its privatization started in 2000. The majority of former Macedonian government officials of the period when VMRO-DPMNE was in power in 1999, had started to acquire shares and they became majority shareholders. Among them was also the current prime minister Nikola Gruevski, who at that time was minister of Finance.
From 2005, a procedure was launched to sell the bank and the Serb businessman Jovica Stefanovic was a potential buyer, through "Jaka 80" company based in Skopje. Until 2008, this bank went bust due to the lack of stability.
So far, the prosecution has kept quiet on the case, saying that it doesn't want to comment the accusations being held during the campaign. /ibna/
More: Corruption accusations addressed against Gruevski, how did he receive 1,5 million Euros from a Serb businessman