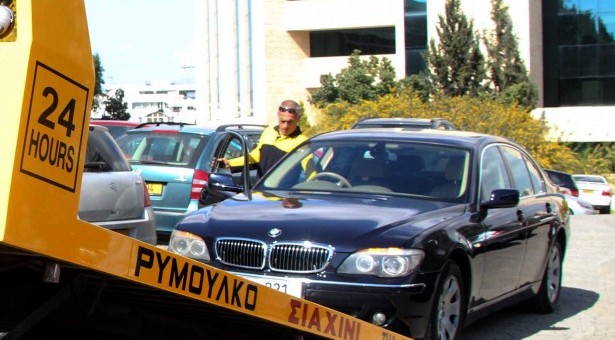 By Kyriacos Kyriacou-Nicosia
Bailiffs confiscated on Wednesday an official car belonging to the state and more specifically to the Legal Service, used by the Attorney General Costas Klerides. The seizure was carried out following a pending court order as the state owes approximately €7 million to a private citizen following the expropriation of his property.
"I will go on foot"
Speaking to the press, Costas Klerides said that the amount had not been paid and that several efforts have been made to confiscate state property as the state is the debtor. He also said that he will not stand in the way and told the bailiffs to act as they wish, noting however that the situation is humiliating for the state, its institutions and its officials.
Asked whether this humiliation will stop, the Attorney General said that the where meeting for this matter, aiming in finding a way for the state to deal with such obligations. There were suggestions to change legislation, but nothing was decided yet.
Asked how he will go home, Klerides replied: "I will go on foot".
State should be excluded
Commenting on the incident, Minister of Interior Socrates Hasikos said the property belonging to the state, should be excluded from law. He revealed that he was also a victim of bailiffs.
"We declined to give the amount to this citizen because it was an unfair case", the Minister said.