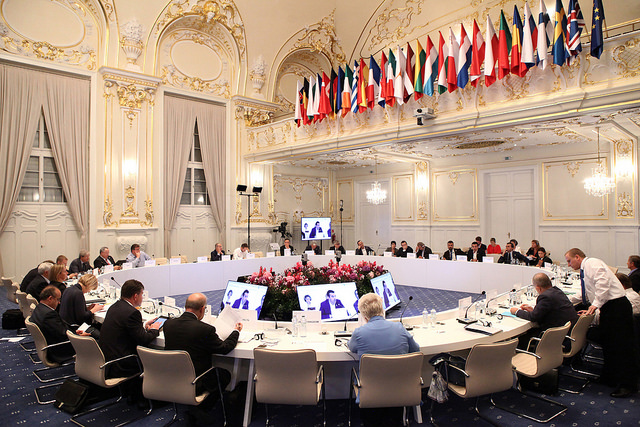 Bratislava, September 5, 2016/Independent Balkan News Agency
By Spiros Sideris
Bratislava's Grand Hotel was packed from the delegations of the European countries that participated in the Informal Meeting of EU Foreign Ministers (Gymnich).
The first day of the session was over having focused on the EU – Turkey relations. According to information of IBNA, during the discussion were put on the table all issues that shape the new conditions in Turkey after the failed coup of July 15.
The council stood in favor of the continuation of consultations between the two sides, while the ministers commented the statements by the Turkish Minister for European Affairs Omer Celik, that it is time to open a new page in our relations with the EU although the EU failed to show proper support to Turkey after the failed coup attempt.
Of course there were some voices calling for an end to the talks with Turkey, but this was not heeded by the majority of the participating Ministers. A European diplomatic source told IBNA that there was "beating" in Turkey, without making any further comments.
On Friday night the Turkish Minister, sitting at the hotel terrace enjoying his cigar, was talking with his assistants about the next day when he would confront the EU Foreign Minister.
Responding to IBNA's questions as to whether he is optimistic about the talks that will follow, smiling he said: "I'm always optimistic and the EU's disappointing attitude in the failed coup will not adversely affect our relations".
The second day of the work of the Informal Meeting of Foreign Ministers in Bratislava found both sides positive to the normalization of relations and the rapprochement, and as a Slovak source stated to IBNA, the two meetings on Turkey were like the day and the night. In the meeting, which far exceeded the predetermined time, according to the statements was agreed by both sides that the commitments which have been undertaken in the past must be respected at all levels.
Turkish European Affairs Minister Omer Celik commented on the position of Austria, concluding that the EU should show a little understanding towards Turkey after the ordeal it went through.
Finally, Mr Celik confirmed the continuation of the EU agreement with Turkey on the refugee issue, without failing to imply however that it is inextricably linked to the liberalisation of visas for Turkish citizens, accepting the delay of the decision until the end of the year.