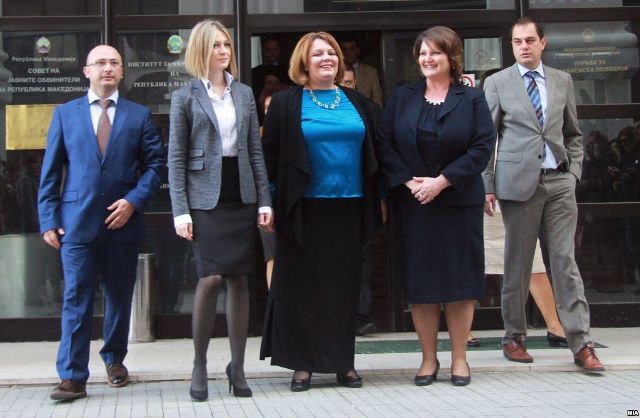 The largest party in power, VMRO-DPMNE has not stopped its accusations against the Special Prosecution, an institution which was established last year as part of the political agreement.
The leader of VMRO-DPMNE, Nikola Gruevski said that his party is not making obstructions to this institution, but according to him, the Special Prosecution is serving the interests of the largest opposition party, SDSM.
"From what I gathered, SDSM has dictated to the Special Prosecution how many indictments to launch and how many investigations to open", said Gruevski, who is also under investigation by this prosecution.
His party also accused that the Special Prosecution, Katica Janeva is working in a selective way and is employing her relatives.
Antonio Milososki of VMRO-DPMNE, said that Janeva has employed her own nephew in the prosecution. "The latest declaration issued by Janeva that the employment of her nephew in this institution is not nepotism, is the peak of the degradation of transparency", Milososki said.
Accusations have also been launched by Prime Minister Emil Dimitriev, who said that this prosecution must not engage in selective acts.
Meanwhile, the Special Prosecution has rejected VMRO-DPMNE's accusations.
"We believe that our credibility as an institution that acts in a professional way can never be questions, because we have met all legal requirements and we have not favored anyone", said Lence Ristoska, spokeswoman of the Special Prosecution, who commented the employment of a family member of the head of the Special Prosecution, Janeva.
Expert of legal affairs, Fatos Rushiti stresses for Balkaneu.com that the attacks against the Special Prosecution are coordinated attacks. "These attacks are well organized with the aim of mining the process and the mission that this institution, which has been established to investigate all abuses, that this institution has. Political parties, including VMRO-DPMNE must support this institution, as they supported it when it was established. Any evasion from this responsibility is an attempt to evade justice", Rushiti said. /balkaneu.com/