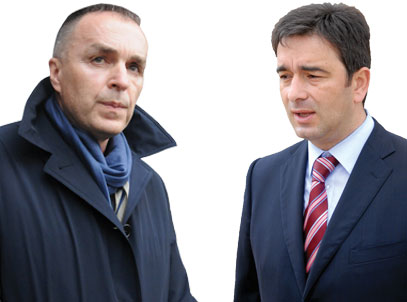 By Adnan Prekic – Podgorica
The District court in Podgorica has decided that the businessman Veselin Pejović be taken under custody, for attacking one of the opposition leaders, Nebojša Medojević, in Montenegro. Pejović, who was the only bidder for the assets of the Aluminium Plant, has at the airport in Belgrade slapped and insulted Medojević. The conflict was the result of accusations by Medojević. He had said that Pejović has plans to buy Aluminium with money he earned selling drugs.
After the incident, which occurred at Belgrade airport, the District court in Podgorica has called Pejović to come to the court and give a statement about the conflict with Medojević. A little later, Pejović has left the court in handcuffs. He was taken to jail on charges of endangering the safety of one of the leaders of opposition, Nebojša Medojević.
The conflict between Pejović and Medojević began after the first announcement for the sale of assets of the Aluminum Plant, the biggest plant in Montenegro. Pejović was the one who offered to buy the assets of the factory . Medojević, known as a sharp critic of the current government, has accused Pejovića that he intends to purchase the factory with money acquired through drug trafficking.  Medojević said that behind Pejović and his company stands the money of the drug dealer Darko Šarić, whom is wanted by the prosecution of the region for smuggling drugs. Pejović has rejected the accusations and said that he has nothing to do with the fugitive narco boss Šarić.
The verbal conflicts was continued in the media until it escalated at the Belgrade airport, during the boarding on a plane to Podgorica. Pejović has, according to witnesses, verbally attacked Medojević first after which he slapped him in the presence of his wife. Police detained Pejovića at the airport but he was immediately released and charged with a misdemeanor.
Explaining his action, Veselin Pejović said that he hit Medojević because there was no another way for him to defend his family honor and reputation from Medojević accusations, who is protected by deputy immunity. On the other side, Medojević said that the attack against him should not be considered like a personal conflict between two citizens. It is clear that this is a savage attack, revenge for my parliamentary activities and publicly spoken words – said Medojević.
All political parties have condemned the attack on Nebojša Medojević.