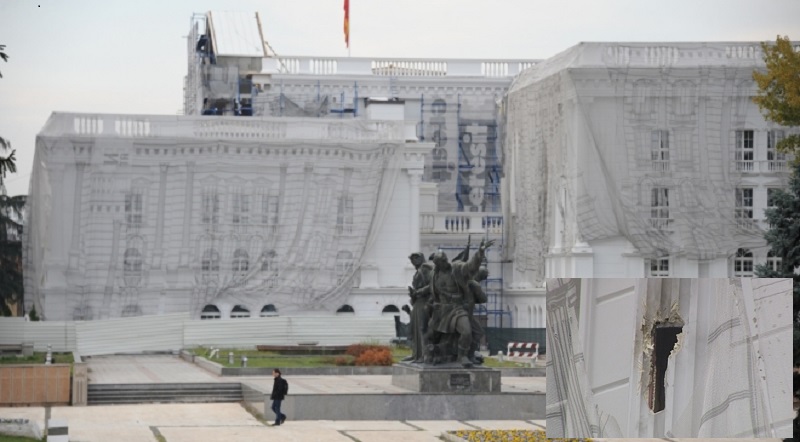 IBNA Special Report
Skopje, October 31, 2014/Independent Balkan News Agency
By Naser Pajaziti
The recent attack which occurred on Tuesday evening where the government building in FYROM was attacked with two shells, there are still no details issued by security agencies, while on the other hand, different comments have circulated about the motives of this attack.
Public prosecution said that it cannot offer more detailed information in relation to this attack.
"For the moment, we cannot offer detailed information until the end of the inquiry, because then there may be speculations. Therefore, in the interest of the inquiry, we will not publish further information", reads the reaction of the prosecution.
Spokesman of the Ministry of Interior, Ivo Kotevski said that police investigators are in constant communication with the prosecution and in order to protect the investigations, they do not want to offer any more details on the event. Sources from the Ministry of Interior say that most of the expertise has been carried out, while the results have been sent to the prosecution.
This event has also sparked debates among experts and political analysts, as to whether this can be considered as a terrorist attack or something else.
Expert of security affairs, Vladimir Pivovarov offers his insights on this attack.
"First of all, we must be restrained with our declarations, because investigations have just started and secondly, there are definitions about terrorism. In our country, we use the American definition, which says that there must be victims, violence, terror, media coverage and after this, we can decide if it was a terrorist act", declared Pivovarov.
Analyst and diplomat, Alajdin Demirisays that the attack doesn't attract much attention among the population, as according to him, they know that this was done by the government.
"If a poll is carried out, the citizens will claim that this was something done by the government to deter attention. These are lowly maneuvers by the government, which wants to change its rating and be perceived as the savior of the citizens, wanting to defend them from an imaginary enemy. This is similar to other cases, where terrorism is imaginary, because there's no real terrorism in Macedonia", declared analyst Demiri.
The incident occurred on Tuesday around 10 pm, where two shells hit the government building which is under reconstruction. The shells hit the upper part of the roof and a wall, while there have been no casualties and only material damages. A similar attack occurred in 2007 against the government building and no details were ever given about the attack, authors or possible motives. /ibna/