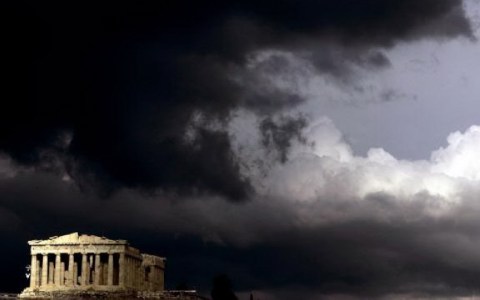 Athens, July 7, 2016/Independent Balkan News Agency
By Zacharias Petrou
The Greek government is under pressure to implement a Technical Memorandum of Understanding accompanying the MoU of the European Stability Mechanism program.
The government is in a race against time to implement the Technical MoU in order to avoid the automatic spending cuts mechanism kicking in next year should fiscal targets be missed. Such a development would mean further wage and pension cuts.
The Technical MoU gives the Greek government clear instructions for revenue collection this year with those who owe money to the State – in taxation, social security contributions, VAT and more – being targeted to either repay their debts or risk losing assets via foreclosures.
Tsipras
According to reports in the Greek press on Thursday, Greek Prime Minister Alexis Tsipras told reporters on the return flight to Athens from his official visit to China that he would like the second bailout program review in the autumn to be wrapped up swiftly.
Athens hopes that the faster it moves towards implementing agreed reforms and prior actions, the quicker the country will gain credibility and attract investors.
Tsipras reportedly revealed that European Financial Affairs Commissioner Pierre Moscovici will visit Athens in July to find a way for better micro management of the Greek bailout program, unblocking smaller issues since there is agreement on the broader objectives.
IOBE
Greece will suffer a contraction of 1 percent of its gross domestic product, a report by the Foundation for Economic and Industrial Research (IOBE) warned earlier this week, stressing that the country cannot waste any more time in attracting investors.
"The economy is at a crucial point and developments in Europe have compressed time considerably. There is no margin for delays. It's time for decisions," said Nikos Vettas, the general director of IOBE.
Vettas stressed that "unless the Greek economy reverts immediately to growth, we fear there will be a negative impact on the productive enterprises of the country, as there is simply no more space for them."
IOBE chairman Takis Athanasopoulos said "the government, the opposition, workers, corporate officials and entrepreneurs, are speaking about the need for investments that will create jobs […] it is up to us how rapidly and efficiently we can make the most of those advantages."