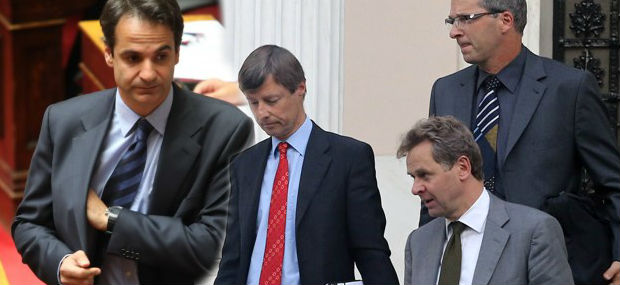 By Lefteris Yallouros – Athens
Greek Administrative Reform minister Kyriacos Mitsotakis is set to meet troika officials in Athens Wednesday. The minister hopes to get a nod of approval for the public sector mobility scheme carried through by the ministry without further stipulations.
Mitsotakis will present the list of 12.500 civil servants included in the first phase of the plan as well as 2.000 lay-offs already gone ahead with the closure of state broadcaster ERT.
The evaluation of 400.000 civil servants has also been carried out.
The ministry will hope outstanding actions don't cause any glitches in the troika inspection as it still hasn't been agreed which employees will be included in the upcoming 4.000 layoffs that must be ordered before the end of the year.
Equally important is the awaited troika reply to the ministry's request for more time in order for the second phase of the mobility scheme to be completed.
The government will like to see negotiations move on from quantitative goals – in terms of how many people will exit the civil service and how – to qualitative goals focusing on how to make public administration more effective, implementing changes in human resources methods (especially in relation to selecting managers) and cutting red tape.
Negotiations to drag on
A host of other issues in the troika's evaluation have caused friction in talks with the Greek government as changes in property tax law, plans to crackdown on tax and social security evasion and the thorny matter of next year's fiscal gap have stumbled on differences of approach and opinion.
Sources believe the troika has brought its estimate of the country's fiscal gap down to EUR 1.5 and is pressuring the government to take measures to cover it. Greek officials, on the other hand, maintain only structural reforms are necessary in order to fill the gap.
A conclusive deal is unlikely to be reached before the December 9th Eurogroup meeting after which it is, as yet, unknown when the troika will return to Athens.
Recession to persist in 2014   
Meanwhile, the Organization for Economic Cooperation and Development (OECD) revised upwards its estimates for Greece, forecasting a 0.4 pct recession in 2014 and an 1.8 pct growth rate in 2015.
The 0.4 pct recession rate is significantly lower compared with the previous OECD estimate (-1.2 pct). The economy is expected to return to growth in 2015, the Organization says.
The OECD said the fiscal restructuring effort must continue because of the high level of public debt, while highlighting the need for debt-relief in order to safeguard the sustainability of public finances.