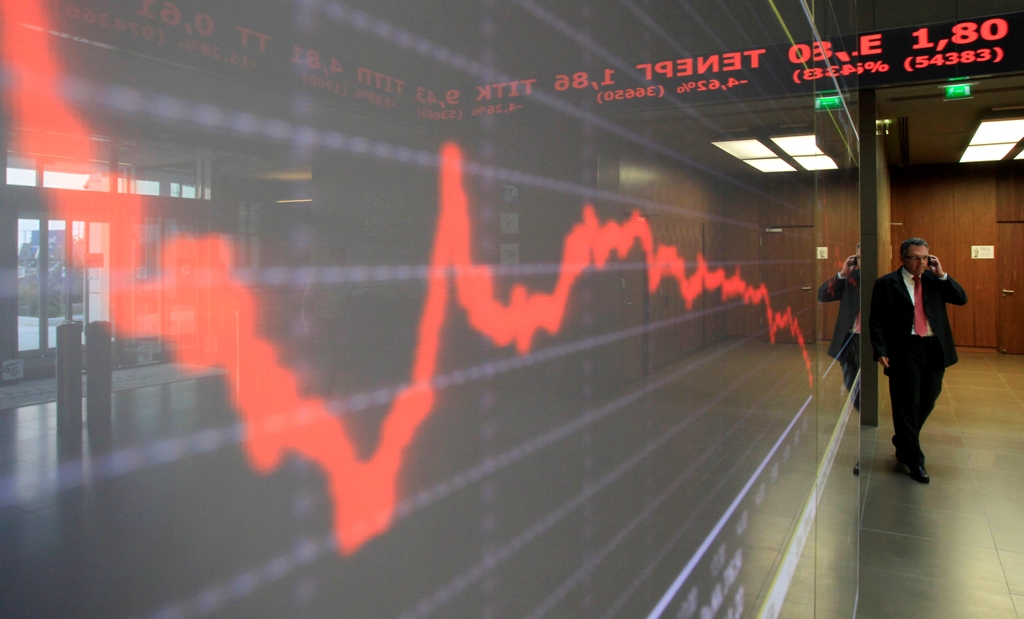 By Spiros Sideris – Athens
Massive liquidations occurred in the Athens Stock Exchange, with many foreign funds leaving and investors expressing their concerns about the possibility of an early exit from the Memorandum and political dangers in the form of early elections scenario.
The General Index closed at its lowest since the end of July 2013, at 888.93 points, down to 6.25%, while the intraday "dip" reached up to 10%.
Since early 2014, the main stock index is down 23.54%, while the last two days, the losses amounted to 11.62%.
The value of trade recorded a sharp rise and stood at EUR 263.04 million.
The large cap index droppped at a rate of 6.32%, while the mid-cap index has droppes by 4.64%. All individual indicators closed with loses, with the greater losses recording: utilities (-10.99%), travel (-9.09%), Personal Products (-7.23%), industrial products (-7.22%) and banks (-7.00%).
In "red" were all the shares of blue-chip. Twenty-one shares went up, 113 droppped and 12 remained stable.
If one tried to find the causes that led to the crash, in close connection with Greek bonds, of course, whose performance cuts any thoughts for exit to the markets prohibitive, would say they are the same with those that caused the drop on Tuesday.
But there was a difference on Tuesday. Around noon, when the composite index began to crumble, rumors had intensified that Greece cannot afford another political uncertainty and that the polarisation would and directly lead to early elections. The scenario was reinforced by the Cabinet meeting, with the rumors saying that the Prime minister will make a proclamation for the need to resort to the polls.
First, what is needed is calm and prudence from the political parties. The market, as shown by the estimates of brokers and the calls of the business world, seeks for the landscape to clear, to find solutions to the political and economic level and to restore "normalcy".
Only then will the Stock Exchange be able to recover and along with the yields on interest rates, which are probably even larger wounds in the heart of the economy.