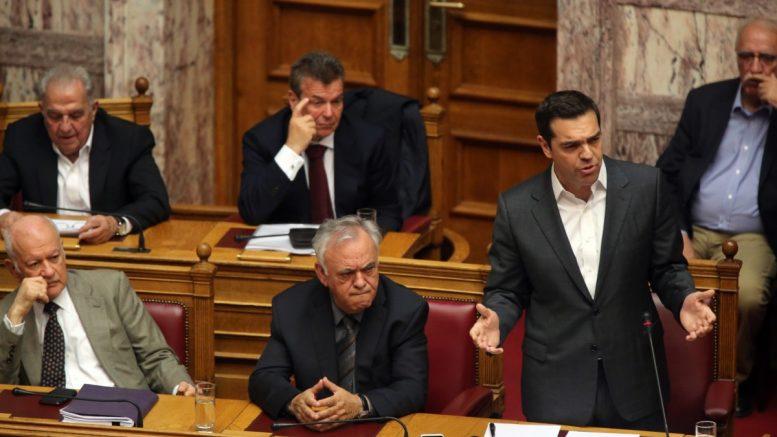 Speaking in parliament on Thursday, Prime Minister Alexis Tsipras appeared certain that the latest pension cuts legislated to take effect as of January 2019 will not go ahead.
The issue is still being discussed with Greece's Eurozone partners and is thought to be dependent on the primary surplus targets set in Greece's budget being met.
Depending on whether or not the measure will be shelved, Athens is also preparing to adopt a mix of so called social measures to boost those on low incomes.
A decision on the pension cuts and the exact measures that will be adopted is expected late November.
Meanwhile, the European Commission revised its forecasts for Greek GDP growth over the 2018-2020 period, expecting a slightly higher rate for the current year but lowering expectations for 2019.
The Commission revised the GDP forecast for 2019 to 2.3 percent. Additionally, Greece's general government primary budget surplus is expected to come in at 0.6 percent over the 2018-2020 period.
The Commission's Autumn Report said "economic growth is taking hold, though vulnerabilities remain" in post-bailout Greece. It also urged the Greek government to sustain the reform momentum.
The International Monetary Fund also advised Greece to keep reforming its economy, albeit in stricter tone.
Poul Thomsen, the IMF European director reiterated Thursday that pension cuts in 2019 are necessary and that any "fiscal space" should be used to promote growth-generating measures.
Nevertheless, Thomsen said discussions over the pension cuts issue involve Athens and its Eurozone partners who will ultimately make a final decision as the IMF is no longer part of a Greek adjustment program, adding that the Fund is now focused on the Greek economy's long-term prospects./IBNA