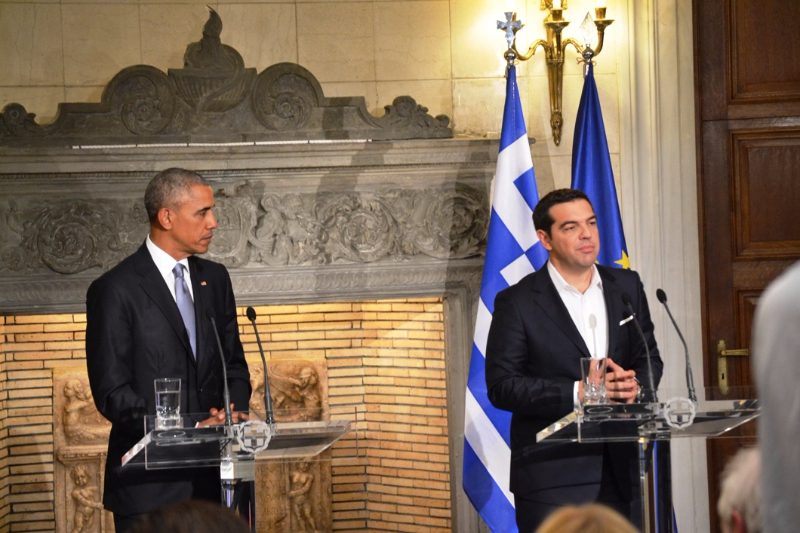 Greek government sources were "delighted" with the high profile support US President Barack Obama and his public call for debt relief that was reiterated in a potentially historic speech in Athens on Wednesday, at the end of a two-day visit to the Greek capital.
Government spokesman Dimitris Tzanakopoulos expressed "satisfaction" with Obama's support on the issues of debt, refugees and Cyprus. "The US president made clear that austerity cannot lead to economic prosperity," he said, adding that the visit was an event of global significance.
"There is a very good possibility that by the end of the year we will have very positive developments as regards the Greek debt," Tzanakopoulos said.
However, while outgoing US President Barack Obama urged Greece's European creditors to grant the country much needed debt relief, daily newspaper Passauer Neue Presse reported that German Minister Wolfgang Schaeuble had reacted strongly to Obama's call for debt relief.
"Whoever says 'we will relieve your debts' is doing Greece a disservice," the Passauer Neue Presse quoted Schaeuble as saying, in a thinly veiled dig at Obama.
Meanwhile, German government spokesman Steffen Seibert told reporters that Obama's comments were noted by the German government. "We have noted that President Obama has pointed to the importance of debt relief. "The Eurogroup agreed in May on a timetable […] regarding measures for the short term, and later in 2018 for mid-term measures" the spokesman said.
Barack Obama will meet German Chancellor Angela Merkel for talks in Berlin today in what is the outgoing President's last trip to Europe before he hands over the presidency to Donald Trump in January. They will be joined on Friday by the leaders of France, Britain, Spain and Italy./IBNA
Photo: IBNA/Spiros Sideris