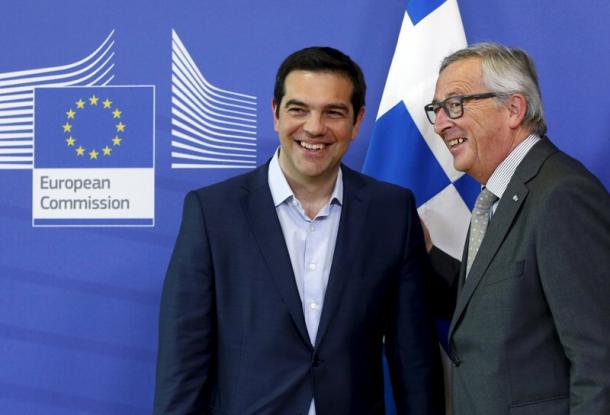 Athens, June 21, 2016/Independent Balkan News Agency
By Zacharias Petrou
On a day that both European Commission president Jean Claude Juncker and European Stability Mechanism (ESM) chief Klaus Regling visited Athens, a total of 7.5 billion euros in bailout funds was disbursed to Greece after the successful conclusion of the country's bailout program review.
"ESM disbursed today 7.5 billion euros to Greece," Klaus Regling said after meeting Finance Minister Euclid Tsakalotos. The ESM chief sent a strict message to the Greek government to keep meeting the obligations it has agreed to, clarifying that the 3.5 percent primary surplus target, which Greece has agreed to achieve in 2018 should be respected.
In his meeting with Prime Minister Alexis Tsipras on Tuesday, J.C. Juncker was also adamant that "the Greek government, parliament and the Greek people should have real ownership of the programs that are being applied."
Juncker also had warm words of support for the country's reform efforts and the government's intention to safeguard Greek workers from mass layoffs in future.
Prime Minister Alexis Tsipras said that Greece's economic recovery cannot "be based on an obliteration" of labor, speaking with European Commission President Jean Claude Juncker by his side during a joint press conference.
This was seen by analysts as a clear attack by Tsipras on the IMF. The Greek premier also criticized those who argued in favor of Grexit last summer, in a thinly-veiled attack on German Finance Minister Wolfgang Schaeuble.
"Various opinions are being heard on the part of creditors, opinions that collide with European labor and social rights," Tsipras said, criticizing the views of the IMF. He added that Juncker also believes that collective bargaining agreements should again be implemented in Greece.
The European Commission president himself noted that he "is no friend of mass layoffs", adding that he believes Athens will put forth a proposal that will find him in agreement.