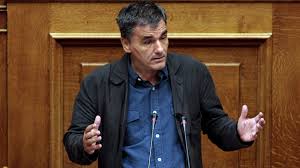 Athens, December 8, 2015/ Independent Balkan News Agency
By Zacharias Petrou
Finance Minister Euclid Tsakalotos took part in a Eurogroup meeting on Monday focusing on the implementation of the Greek bailout program and the final steps in the recapitalization of the country's banking system.
The meeting discussed the 13 prior actions Greece must implement imminently in order to access a 1 billion euro sub-tranche of its latest bailout loan package.
According to press reports, Euclid Tsakalotos promised his Eurozone partners that Athens will swiftly implement the remaining reforms in order to unlock the next 1 billion euro sub-tranche.
Furthermore, it is hoped that Greece can sooner or later begin to access capital markets should its adjustment program be implemented swiftly. European officials have made such hints recently albeit with some conditionality tagged to the idea.
"If the program is on track, as it is today, and stays that way all of 2016, then I reckon access to markets is a feasible target and will be a logical consequence," Thomas Wieser, chairman of the Eurogroup Working Group, told Greek newspaper Realnews over the weekend.
" […] We had to spend a lot of time on Greece but that programme is also back on track," Eurogroup chief Jeroen Dijsselbloem said, noting that on the economic front there were "reasons for some optimism".
"Greece needs to build a long-term, sustainable, less fragmented and more just pension system", European Commission Vice-President Valdis Dombrovskis told journalists adding that Greek authorities and the institutions now need to finalize a second set of milestones to disburse the remaining one billion from the first tranche by mid-December.
Greece and its lenders are due to resume talks on Tuesday after the passing of the 2016 budget on Saturday night and ahead of the new set of prior actions being submitted to Parliament in the coming days.
The heads of the institutions will be in Athens on Tuesday for talks with Greek government officials.
The main focus of their discussions will be the 13 prior actions that Greece has to pass through Parliament by mid-December in order for the 1 billion euros to be disbursed to Athens without delay.
However, there are reports in the foreign press which suggest the prior actions and ultimately the entire review of the program which was supposed to be wrapped up by January will be delayed.
Specifically regarding the 13 prior actions, there are four issues on which the two sides have yet to reach a full agreement:
Greece has to agree a system for the management of non-performing loans (NPLs) but it has not yet decided on which overdue loans banks will be able to sell to private funds.
The privatization of electricity transmission operator (ADMIE).
The unified wage grid for the public sector, which has to be approved by Parliament this month and implemented from January 1, 2016.
A task force to set up the new privatization fund agreed as part of the third bailout.
Athens has reacted angrily to suggestions it is dragging its feet and that reforms will not be carried out on time. Especially in relation to an unfavorable report in German newspaper Die Welt, an announcement was issued by the Greek government which said that some are trying to cause problems to Athens in order to destabilize the government and trigger the need for an all-party government.
In an inner cabinet meeting chaired by Prime Minister Alexis Tsipras on Monday, the Greek government reaffirmed its commitment to implement the 13 prior actions by December 18.
Furthermore, it was agreed to bring the social security reform bill to parliament in January and to actively push for talks to begin on debt relief.