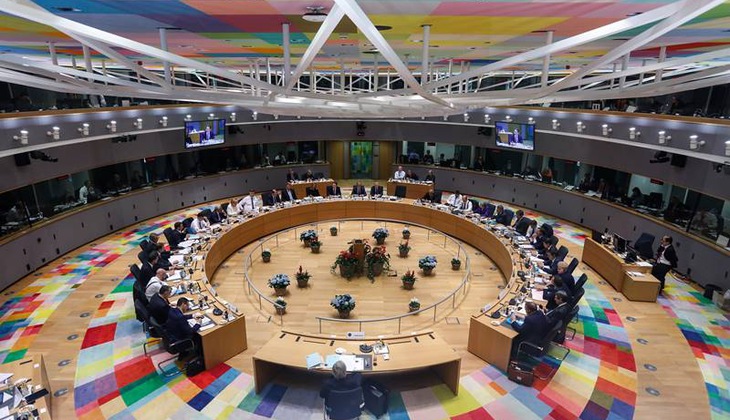 Prime Minister Kyriacos Mitsotakis took part in an extraordinary meeting of the European Council in Brussels on Thursday discussing the EU Multi-annual Financial Framework for the 2021-2027 period.
The Greek premier told counterparts that the Union "cannot do more with less", stressing that the Council's recommendations on the financial framework were miles apart from those made by the European Commission and European Parliament.
"We need a bigger envelope if we want to support at the same time traditional policies like cohesion and the common agricultural policy" Mitsotakis noted, while adding that he expected "complicated and difficult discussion".
According to government sources, Mitsotakis appeared determined to secure as many resources as possible, citing challenges in social cohesion policy, agriculture, the migration-refugee crisis and climate change.
The same sources said the PM noted there should be no reduction of funds dedicated to dealing with migrant and refugee flows. He went on to point out that any cuts would fail to meet citizen's expectations from the EU in this area.
As things stand, Athens is thought to be part of a group of EU member-states pushing for more support in areas that would ensure cohesion. This group of countries has met strong opposition by some of the larger contributors to the EU budget who refuse to pay more.
Reuters reported on Thursday that talks in Brussels were "fractious" as leaders "made no headway" on the joint budget due to "evident divisions even before talks began".
Several member-states in central and eastern Europe are objecting to proposed slashing of cohesion funds by almost 15 percent, while others are concerned that the common agricultural policy will lose about 80 billion euros in funding, mostly affecting southern member-states.
On the other hand, the EU budget will almost certainly reflect the fact that Brexit has left behind a 75 billion euro hole.
European Council President Charles Michel said on Thursday: "There are many interests, there are many concerns. They are all legitimate but I'm convinced it's possible to make progress in the next hours and the next days. Everything is on the table to be able to decide"./ibna