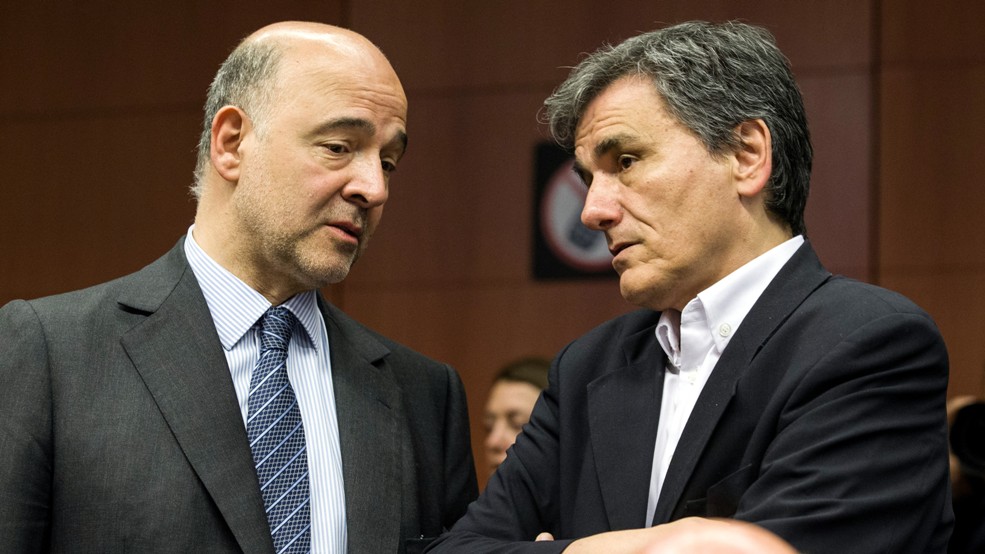 On the day of a Euro Working Group meeting, European Commissioner for Economic and Financial Affairs, Pierre Moscovici met with Greek counterpart Eu. Tsakalotos in Brussels.
After the meeting on Thursday, Moscovici told reporters that the International Monetary Fund's (IMF) participation in the Greek program is viewed as reassuring for a number of EU member-states.
Moscovici also revealed that several issues remain unresolved in the context of negotiations aiming to conclude the review of the Greek bailout program. These include, energy reforms, collective bargaining and labor reforms and arriving at an assessment of the fiscal gap.
The Commissioner went on to say that "we are moving in the right direction towards concluding the second review".
Greek Finance Minister Euclid Tsakalotos said during a joint press conference that the IMF must decide the level of its participation in the Greek program. He added that there are many issues to be resolved but this is natural when so many players are involved.
Gerry Rice, a spokesman for the IMF, told reporters later on Thursday that the Washington-based Fund is still open to the prospect of being part of the Greek bailout program. Rice added that there is no clear timetable regarding the resumption of talks between Greece and its creditors.
The spokesman reiterated the long-standing IMF position that a 1.5% primary surplus target is more realistic a target for the Greek economy to strive for in future. Lowering the target, according to the IMF, will mean Athens will not require new fiscal measures.
Political Solution
Greek government spokesman Dimitris Tzanakopoulos said during a regular press briefing on Thursday that the review can only be successfully concluded if a political agreement is struck.
The spokesman stressed that the conclusion of the review has come unstuck due to "disagreements" between the IMF and the Eurozone about the prospects of the Greek economy.
He added that technically there is no problem at the moment, before reiterating that "irrational demands" – such as slashing the tax-free threshold – will not be accepted by the government.
Reports in the local press emerged this week suggesting that Athens is contemplating plans to extend the so called "fiscal cutter" beyond 2018, meaning pensions and the tax-free ceiling stand to be slashed in future. Government sources have flatly rejected such notions.
Athens wants to overcome creditors' most recent insistence for additional measures worth four billion euros – a standing IMF position – after 2018, in order to achieve European creditors' demands for primary budget surplus targets of 3.5 percent of GDP after the current bailout program ends.
Furthermore, Tzanakopoulos stressed that the government's goal is the swift conclusion of the review, so that Greece can be inducted in the European Central Bank's quantitative easing program. However, it appears, according to sources, that the Greek side has set February 20 as its new target, when next month's Eurogroup meeting is scheduled for./IBNA