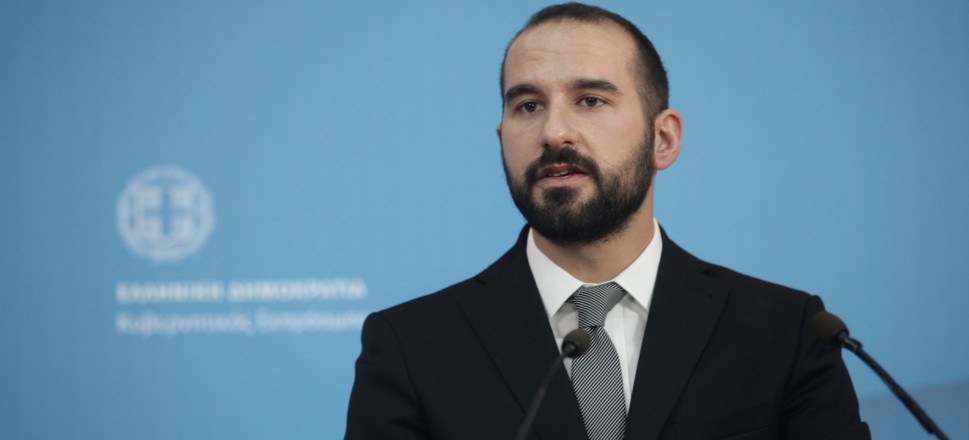 The Greek government will never accept the legislation of new measures, spokesman Dimitris Tzanakopoulos said during a press briefing on Tuesday.
The statement follows reports suggesting Athens is preparing to make concessions to creditors in order to wrap up the review of its bailout program. Officials, however, are adamant that the Tsipras administration is not ready to approve fresh tax hikes (i.e. abolishing tax exemptions) or extend the so called fiscal cutter.
Tzanakopoulos said that the government aims at a decision during the January 26 Eurogroup that will pave the way for the conclusion of the Greek bailout program review as soon as possible.
He added that the government has met the vast majority of the program's set targets while talks have stalled through no fault of Athens. Moreover, he estimated that the 3.5 primary surplus target for 2018 will be met but should be lowered in future to allow the economy to grow.
Tzanakopoulos reiterated the importance of wrapping up the program review which would allow Greece to participate in the European Central Bank's quantitative easing (QE) program.
Meanwhile, Greek government sources argued this week that Wolfgang Schaeuble's recent comments about Greece were made because he is in a difficult position ahead of the German election and they have no impact on negotiations between Athens and its creditors.
In comments to the Wall Street Journal, just a few days after suggesting in an interview with German media that a potential withdrawal of the International Monetary Fund could necessitate a renegotiation of Greece's bailout, German Finance Minister Wolfgang Schaeuble advised against such a prospect.
The same sources suggest W. Schaeuble is unfolding his strategy to make sure Athens imposes extra austerity measures to guarantee the success of the bailout program. In fact, the German Finance Minister may also propose the Greek review is periodically approved by the German parliament, should the IMF exit the program.
Athens believes Schaeuble is appealing to German voters and that negotiations over the bailout review can still be wrapped up by late January or February.
A crucial milestone for the Greek government is the Eurogroup meeting of February 20, where it hopes to have concluded an agreement on the second review and a road-map for its fiscal strategy. On March 9 a meeting of the ECB's board could potentially determine whether Greece can be part of the QE program.
The country has available funds that could see it last without needing a bailout loan tranche disbursement until the end of June 2017. However, Athens would prefer that review talks do not drag on beyond February, after which many EU member-states will enter election periods./IBNA