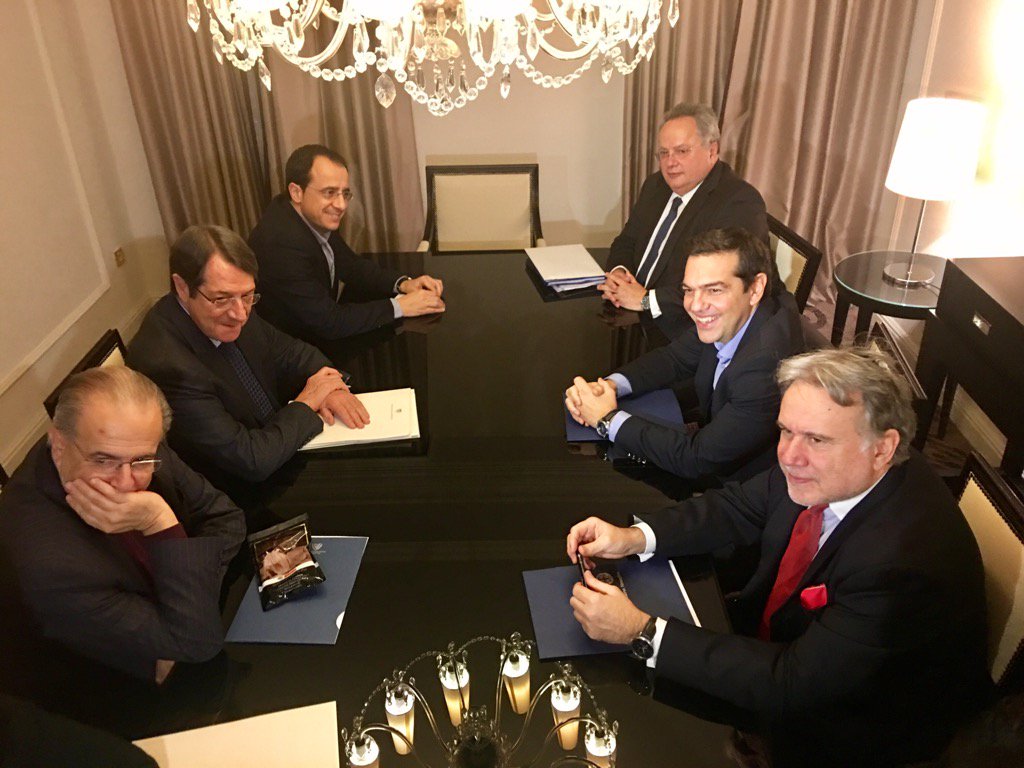 The meeting between Greek Prime Minister Alexis Tsipras and Cypriot President Nicos Anastasiades, on Wednesday night at the hotel Steigenberger Wiltcher`s in Brussels, was a success.
The meeting lasted over three hours and continued with a working dinner. From the Greek side Greek Prime Minister Alexis Tsipras, Foreign Minister Nikos Kotzias, Deputy Foreign Minister for European Affairs George Katrougalos and the diplomatic advisor to the Prime Minister Evangelos Kalpadakis attended.
Attending on the Cyprus side were Cypriot President Nicos Anastasiades, Foreign Minister Ioannis Kasoulides, the government spokesman Nikos Christodoulides and member of the negotiating team Pantelis Pantelidis.
Following the meeting Cyprus president Nicos Anastasiades stated that Greece and Cyprus follow the same line and that the point of today's discussion was to complete the final positions of the two sides, Athens and Nicosia, in view of the meeting on Cyprus to take place in Geneva. "We are completely following the same line and we are continuing the discussion to finalise our position", said the President, who noted that tomorrow he will update both the EPP and the European Council.
Alexis Tsipras said it was a useful meeting in which they discussed all possible scenarios and all possible forecasts. "We have experience of negotiations," the Prime Minister stated, adding that "we saw all scenarios and we have made our predictions."
According to IBNA information, during the discussion, which focused on the issue of guarantees and security, all facts were analysed thoroughly and the common principles for the negotiations were mapped out for January 9th, 2017 and for the multilateral meeting of January 12th in Geneva.
The meeting and the excellent circumstances in which it was held, has once again proven to those who seek to produce friction between Athens and Nicosia that they are wrong, a senior Cypriot official told IBNA,with another official adding that the two countries' relations are like being on a honeymoon./IBNA
Photo: IBNA/Spiros Sideris