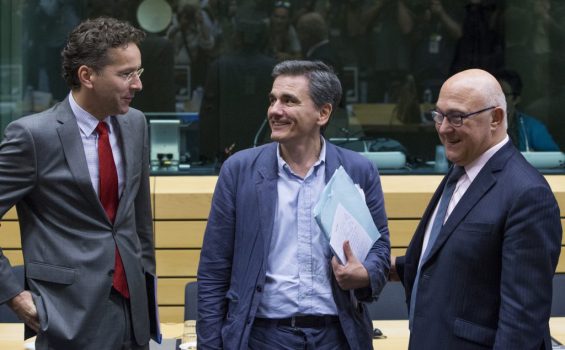 Greek Finance Minister will attend a crucial Eurogroup meeting on Monday hoping for "a political agreement" to wrap up the review of its bailout program, having pointed out in recent weeks that "delays are not in the benefit of Greece or Europe".
Over the last few days, deliberations have continued between Greek government officials and representatives of the country's international creditors in the background. Monday's Eurogroup meeting could give the "quartet" of top creditor envoys the green light to return to Athens for direct talks.
Should the "quartet" return to the Greek capital, the finishing touches are expected to be put to a compromise deal that will include liberalization of the energy sector, labor reforms and further progress in major privatizations. Fiscal targets for future years in order to achieve a 3.5 percent primary surplus in 2018 and beyond will also have to be determined.
According to Greek government and Eurozone officials, there is a convergence in positions but there is some way to go at technical level in order to reach a decision for a conclusion to the review.
At the highest level, reports suggest that the International Monetary Fund and Berlin are close to an agreement on a common stance on the Greek issue.
According to the Der Spiegel, the IMF reportedly now shares the view by European creditors, namely, that Greece must achieve primary budget surplus targets of 3.5 percent of GDP after 2018. The German magazine also reported that the IMF is expected to remain in the Greek program as a lender, putting up five billion euros.
German Finance Minister Wolfgang Schaeuble sounded a warning to Athens during a televised interview on Sunday: "If Greece carries out the reforms, there won't be any problems. If they don't, then there will be problems" he said.
The German minister added that he was "confident Greece is on the right path" and that the IMF will participate in the Greek program if Greece fulfills its reform targets.
A final deal between Athens and creditors to conclude the second review of the Greek program could be wrapped up by the next Eurogroup meeting late March, which is now seen as a realistic "unofficial deadline"./IBNA