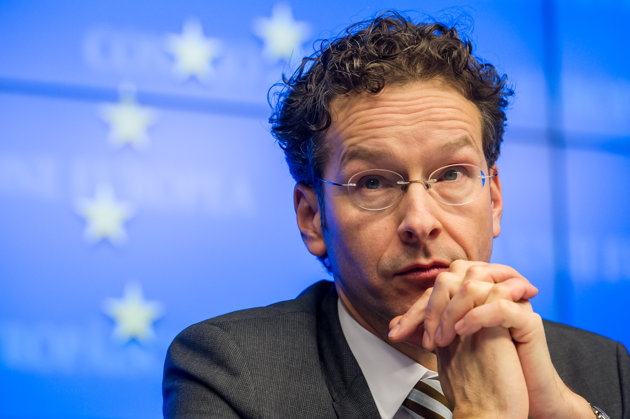 Eurogroup president Jeroen Dijsselbloem said Thursday that Eurozone Finance Ministers will reevaluate the 3.5 percent primary surplus target set for the Greek government to achieve in 2018, at the end of the current bailout program.
Dijsselbloem said it is realistic to assume that the primary surplus could be brought down slightly in the long term.
The Eurogroup chief reiterated that talks between the Greek government and the country's international creditors are "very constructive", noting that significant progress has been made so far.
Regarding the Greek debt issue, he said it was discussed in a Eurogroup meeting last May and decisions to address the problem were taken there. Additional measures can be examined after the current adjustment program has been implemented fully and Athens has adhered to its terms.
"We are standing by the Greek people and will help them manage their debt," the Eurogroup leader added.
Meanwhile, a meeting of the informal "Washington Group" that was expected to take place on Friday was cancelled due to unwelcome media attention. The group – comprised of representatives of Germany, France, Italy, the Netherlands, the IMF and the ECB – was supposed to discuss short and medium term debt relief measures for Greece.
Attention now shifts to a Euro Working Group meeting on 28 November and the subsequent Eurogroup meeting on 5 December.
Ahead of the crucial dates, Pierre Moscovici, the European Commissioner for Economic and Financial Affairs, is expected to visit Athens on Monday for talks with Prime Minister Alexis Tsipras and key ministers.
Key issues, such as fiscal targets, labor sector liberalization and energy-related reforms remain unresolved following the latest round of talks between the Greek government and international creditors in Athens. A new round of negotiations will be conducted by teleconferencing.
The strategy of the Tsipras administration is for the ongoing review of the adjustment program to be wrapped up by the end of November so that it can persuade European creditors to agree at least on short-term debt relief measures./IBNA