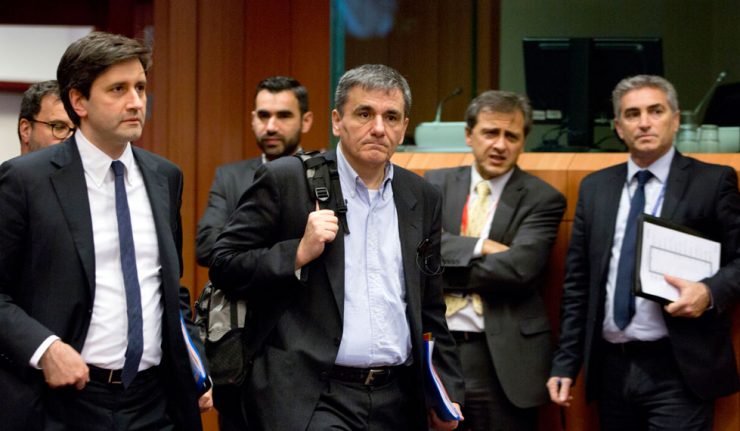 Athens, April 18, 2016/Independent Balkan News Agency
By Zacharias Petrou
Uncertainty over Greece returned following the revelation that the Greek government is being forced to take an additional 3.5 billion euros worth of measures on top of the set of tax hikes and austerity measures it will apply immediately worth 5.5 billion euros.
The government is evidently concerned over how Syriza MPs would react to the tough list of austerity measures (including heavy tax hikes and deep pension cuts) to be tabled in parliament and the additional 3.5 million euros worth of measures that may follow to compensate for a possible fiscal gap in the years leading up to 2018.
Particularly the so-called Group of 53 within Syriza appears to be displeased at what they reportedly see as pure blackmail by creditors. According to reports, some MPs are already talking about the government gracefully resigning. Government sources however point out that Greek Prime Minister Alexis Tsipras has no intention of stepping down and that a series of talks have been scheduled to persuade MPs to back the first set of tough measures in parliament.
Talks with the high-ranking troika officials will resume Tuesday. A set of thorny issues including non-performing loans, cost-cutting measures, pension cuts and more remain open and the successful conclusion of the review is still in the balance.
With a Eurogroup meeting scheduled April 22, the government is struggling to close the review and receive a disbursement by the EU in order to cover its debts that are due in summer.
According to reports in the press, the Prime Minister is considering carrying out a cabinet reshuffle immediately after the bailout program review is closed.
To Vima newspaper reports that "no minister should feel safe" and that there are also several ministers who have already expressed their desire to be left out of the cabinet, such as Finance Minister Euclid Tsakalotos and Citizen Protection Minister Nikos Toskas. The ministers have not responded to the report.
For the time being, Greek government sources insist there is no intention of additional measures being applied other than what the bailout agreement specifies.
The Greek side wants a staff level agreement to be reached on the basis of positive figures on the course of the Greek economy that are expected to be confirmed by Eurostat on Thursday. In this context, the government will table the taxation and pension reform bills in parliament – possibly within the week – as planned.
The next step is for the Eurogroup to approve the successful conclusion of the program review based on the aforementioned staff level agreement either on April 22 or at an extraordinary meeting before the end of the month.
Subsequently, Athens hopes debt relief talks will immediately begin. As part of these talks the Greek side appears open to discussing proposals for possible additional measures that would kick in only if the bailout program's goals are not being reached.