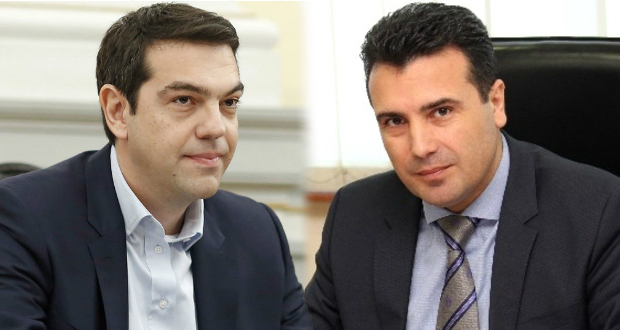 Athens was left waiting for further political developments in the Former Yugoslav Republic of Macedonia (FYROM) to determine whether or not an agreement to rename the neighboring country will overcome ratification hurdles before being put to a vote in Greek parliament.
In the early hours of Monday, partial results showed that the vast majority of voters in Sunday's advisory referendum in FYROM accepted a name change that could pave the way for accession to the European Union and NATO.
It was estimated that about 90 percent of voters were in favor of an agreement with Greece to change the country's name to the Republic of North Macedonia. Crucially, however, turnout came in at about 34 percent – short of the 50 percent needed for it to be valid.
Greek Prime Minister Alexis Tsipras congratulated counterpart Zoran Zaev for his "determination and bravery" to continue the ratification process and table the deal in parliament for approval, despite the successful boycott supported by the opposition.
Zaev made clear on Sunday that he does not plan to call a snap election in response to the referendum result.
As things stand, it is believed that the Greek side remains committed to seeing through FYROM name-change deal ratification, as Prime Minister Tsipras told the Wall Street Journal in an interview last week.
The Greek Foreign Ministry announced that Athens was closely monitoring developments in Skopje, urging all sides to show "moderation" so that the momentum to implement the name-change agreement can be safeguarded.
"A large part of the neighboring country's society supported the deal. But an important part of it treated it with skepticism", the Foreign Ministry said, adding that "Greece respects the choices of the citizens of the Former Yugoslav Republic of Macedonia.
According to the Greek Foreign Ministry, objections to the deal proved to be "false" and "erroneous."
Early analysis pointed to the potential challenges the Greek government will face as a result of the controversial turn of events in Skopje.
Panos Kammenos, the leader of the Independent Greeks party, SYRIZA's junior coalition partner, tweeted on Sunday that the FYROM referendum result made the name-change deal is invalid, according to the neighboring country's constitution.
Kammenos has pledged to quit the coalition government if the deal comes to Greek Parliament.
Main opposition New Democracy was quick to point out the gulf between the ruling SYRIZA and Independent Greeks parties. In an announcement, it reiterated that the deal was "nationally harmful". It added that completely different way SYRIZA and Independent Greeks received the referendum result affirmed that the country is "ruled by a cynical partnership of people who completely ignore the national interest".
Analysts point out that the result in the referendum makes it likely that the Greek premier will not choose to call an early election in January of February under pressure by the name-change disagreements within the coalition./IBNA