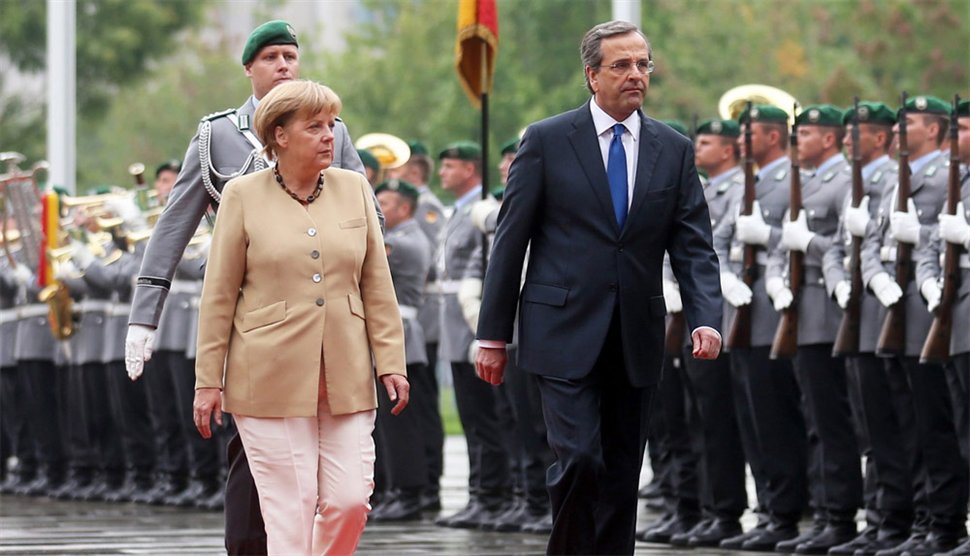 By Lefteris Yallouros – Athens
The German government has played down the importance of talks to be held Tuesday in Berlin between Chancellor Angela Merkel and Greek Prime Minister Antonis Samaras.
"Hopeful signs, especially in the area of growth and that is what Chancellor Angela Merkel will discuss tomorrow with Prime Minister Antonis Samaras," German government spokesman, Steffen Seibert said Monday.
The spokesman added that "no decisions" were expected from the meeting adding that talks on the Greek economic program as well as possible debt relief "are not bilateral negotiations between Germany and Greece but between Greece and its European partners."
Commenting on a statement by Greek Finance Minister Gikas Hardouvelis to Handelsblatt newspaper that Greece would not require a new bail-out package, Mr Seibart stated that the position of the German government, "was always that after the completion of the ongoing program, it will be assessed whether Greece requires additional assistance and, if so, what that would be."
Oddly enough, Greek government spokeswoman Sofia Voultepsi followed suit in lowering expectations from Tuesday's meeting between Merkel and Samaras. Voultepsi said the Berlin talks are seen as routine negotiations between European leaders. The spokeswoman added that such talks are necessary in order for cooperation between member-states to develop smoothly therefore, any criticism of what will be said lie far from the real nature of this meeting.
Main – opposition SYRIZA thinks the effort made by the PM will prove futile. A party statement over the weekend said "Mr Samaras is turning to Ms Merkel as a beggar seeking her lenience. The only negotiation card Mr Samaras has with Ms Merkel is the prospect of a Syriza government".
On Monday evening, just a few hours before the Greek PM and German Chancellor meet in Berlin, opposition MPs turned up the volume on criticism. Most notably, Independent Greeks party leader Panos Kammenos said Samaras had turned into a beggar for his own political survival but nevertheless has not right to bumble the proud people of Greece.