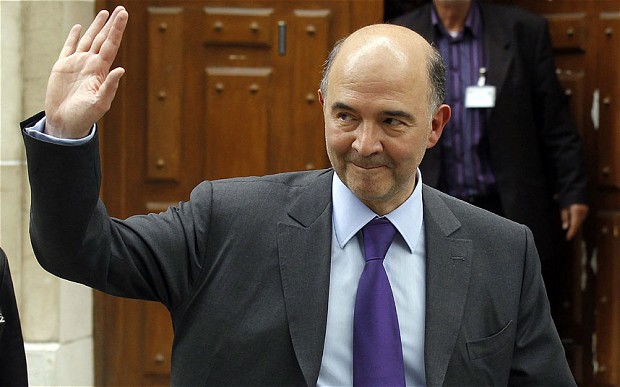 By Lefteris Yallouros – Athens
Greek Prime Minister Antonis Samaras held talks with former French Finance Minister Pierre Moscovici in Athens on Wednesday. Pierre Moscovici also met with deputy PM Evangelos Venizelos, Finance minister Gikas Hardouvelis and Development minister Nikos Dendias.
Moscovici, who will be France's new European Commissioner, appears to be a strong candidate to take over the Economic and Monetary Affairs portfolio from Olli Rehn. Following the Athens talks, Moscovici secured the backing of the Greek government in his bid to for the economic and monetary affairs position.
Talks with Antonis Samaras also focused on issues regarding the Greek and Eurozone economies. Policies promoting growth and the imminent negotiation on Greek debt relief were also thoroughly discusses, according to sources. Samaras chaired a meeting later on Wednesday with the ministers that will be traveling to Paris for the Greek government's talks with troika officials.
A return to growth is expected in the second half of 2014 after many years or recession, however, Athens is keen to find its way out of austerity and French know-how will be valuable towards implementing growth – promoting policies. Especially important for Greece was Pierre Moscovici's backing of the creation of a development bank.
The former French minister said it was crucial for Europe to refocus on growth and jobs via higher investments.
The Greek government's plan is for the National Fund for Entrepreneurship and Growth (ETEAN) to serve as a bank for development that would increase liquidity for Greek business; small and medium-sized enterprises in particular. Greek Development minister N. Dendias pointed out Greek businesses that survived the crisis and are consistent in repaying their debts have 4 to 5 pct higher interest rates than their European competitors.
Moscovici said he supported the objective of spurring economic growth and creating new jobs as Greece plans to use French know-how in its effort to promote liquidity.
"Europe should not just place restrictions and fines but also provide hope. Hope for stronger growth, higher employment especially for the young as it is unacceptable for a country like Greece to be left to have so many young people without prospects" Moscovici told a press conference adding that "Europe needs Greece exactly like Greece needs Europe".