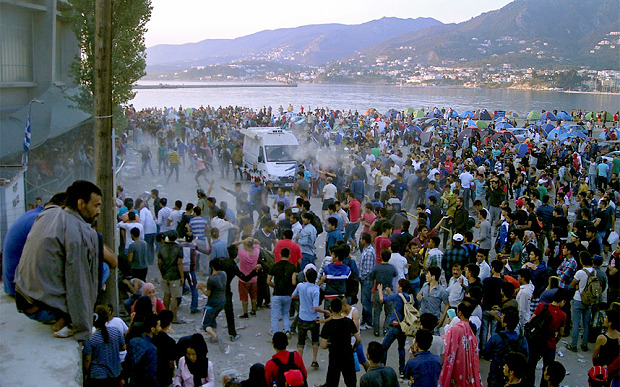 Athens, March 22, 2016/Independent Balkan News Agency
By Spiros Sideris
With problems continued for a second day the implementation of the Agreement of the summit in Brussels on refugee crisis, as refugee flows from Turkey are continuing unabated.
Indeed, in a teleconference with the participation of those involved in the refugee problem, the European Commission's special coordinator for the matter, Maarten Verwey, and the Secretary General of the National Defence ministry, Giannis Tafillis, the Greek side reportedly sought the intervention of the first to Ankara, in order to reduce the increased refugee flows from Turkey, despite the entry into force of the Brussels Agreement.
According to information, Athens points out that Turkey fails, refuses or delays to implement the Agreement.
In the next few days are expected and initiatives of the Prime Minister with leading operators in the European Union, such as European Commission president, Jean-Claude Juncker, the president of the European Council, Donald Tusk and possibly the German chancellor, Angela Merkel, in an attempt to exert pressure on Turkey to implement the agreement.
Moreover, according to an official of the Turkish Foreign ministry, officials from Greece and the European Union will visit Turkey to discuss how to implement the Agreement to address the immigration crisis, on which Brussels and Ankara reached last week.
Under the EU-Turkey Agreement, no immigrant would be turned back by force to Turkey, said the same official, adding that they have already been completed almost half – 35 of the 72- of the criteria Europe has set to grant to Turkish citizens the ability to travel within the Schengen zone without visa.
In a parallel development, Frontex asked for the provision of 1,500 police officers and 50 experts on return and readmission issues for Greece from EU member states and the Schengen associated countries. The aim is to support Greece in the return of migrants to Turkey.
According to an announcement of Frontex, several Member States have already committed to providing additional officers.
Frontex will continue to support Greece in border surveillance, search and rescue, mapping and identification of migrants, while it will also help local authorities with the return and readmission from the hotspots.
"It is important to note that Frontex can return people only when the Greek authorities will have thoroughly analyze each individual case and will issue a final return decision", explained the executive director of Frontex, Fabrice Leggeri.