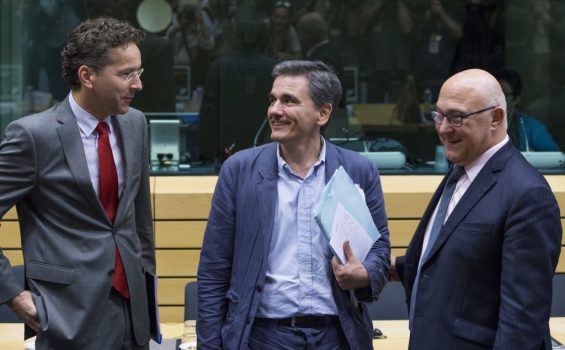 Prior to a crucial Eurogroup meeting on Monday evening, an agreement was reached an agreement was reached during a meeting in Brussels, in which participants included Greek Finance Minister Tsakalotos, Eurogroup president Jeroen Dijsselbloem, European Financial Affairs Commissioner Pierre Moscovici, Eureopean Stability Mechanism chief Klaus Regling and other representatives of Greece's creditors.
The Greek side accepted taking measures for 2019, thus paving the way of the return of the institutions in Athens in the coming days.
Eurogroup president Jeroen Dijsselbloem confirmed that "there will be a change in the policy mix, moving perhaps away from austerity and putting more emphasis on reform."
Dijsselbloem added that he hoped a deal on Greek reforms and on the next disbursement can be reached "as soon as possible" but "there is no need for a disbursement in March, April or May".
International Monetary Fund sources confirmed that envoys will return to Athens, but pointed out that "more progress will be needed" to bridge differences on important issues, and "it is too early to speculate about the prospect for reaching staff level agreement during this mission".
The extraordinary meeting between the heads of the institutions and the Greek side took place in order to reach an agreement on the content of the joint statement by the Eurogroup.
An agreement was reached between the Greek government and the Heads of the Institutions for the return of technical teams to Athens immediately after Ash Monday and the finalization of the technical agreement within a few days.
According to a Greek government source, the agreement includes the inviolable conditions laid down by the Greek side for "not a single euro more austerity". The same sources confirmed that the Greek side "accepted the legislation of reforms that will apply from 1.1.2019 onwards, provided that the fiscal balance will be completely neutral".
"Practically, the change of the policy mix from 2019 onwards without further fiscal burden will be discussed in Athens" the source said./ΙΒΝΑ