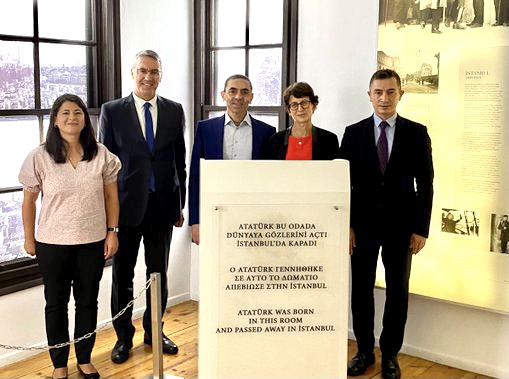 They are honoured today with the "Empress Theophanos" award
The Turkish scientists Dr. Uğur Şahin and Dr. Özlem Türeci, who will be honoured this year with the "Empress Theophany" award by the President of the Republic Katerina Sakellaropoulou, are in Thessaloniki.
Şahin and Türeci will be awarded for the development of the first vaccine against coronavirus.
The ceremony will take place on Wednesday 13 October 2021, at the iconic Rotonda monument, in the presence of the President of the Republic and almost all the members of the Foundation's Advisory and Steering Committee from all over Europe.
Uğur Şahin and Dr. Özlem Türeci immediately after their arrival in Thessaloniki visited the Consulate General of Turkey in the city and toured the house where Kemal Atatürk was born, according to a post on the Consulate's official Twitter account.
Covid-19 pandemisine karşı geliştirdikleri aşıyla tüm insanlığa çok değerli hizmette bulunan Dr. Özlem Türeci ve Dr. Uğur Şahin'i Selanik ziyaretlerinde Başkonsolosluğumuzda ağırladık, birlikte Atatürk Evi'ni gezdik. pic.twitter.com/nzSJrjX7qr

— TC Selanik BK (@TC_Selanik_BK) October 13, 2021
Providing an invaluable service to all of humanity with the vaccine they created against the covid-19 pandemic, Dr. Özlem Türeci and Dr. Uğur Şahin hosted them at our Consulate General during their visit to Thessaloniki and toured Atatürk's house together.
Dr. Türeci and Dr. Şahin, who expressed their desire to see Atatürk's House in the first place upon their arrival, wrote on the guest book as follows; "As scientists of Turkish origin, it is an honor for us to visit the place where Atatürk was born.

— TC Selanik BK (@TC_Selanik_BK) October 13, 2021
Dr. Türeci and Dr. Şahin, who expressed their desire to see Atatürk House upon their arrival, wrote the following in the guest book. "As scientists of Turkish origin, it is an honor for us to visit the place where Atatürk was born. As one of the pioneering leaders of modern Europe, Atatürk understood the fundamental values that free thought and science have for humanity. Consider his wise words, "Science is the only true guide to life."/ibna