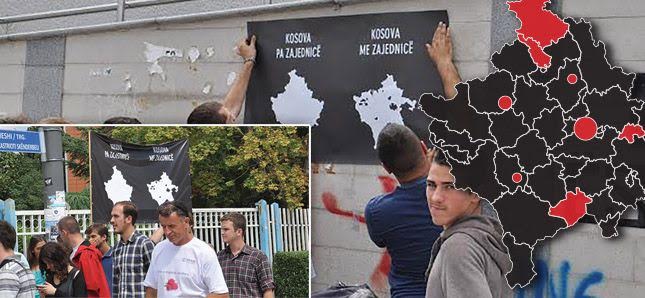 Pristina, 21 August 2015/Independent Balkan News Agency
By Elton Tota
Association of Serb Communes has prompted strong debates in Kosovo. The Serb side says that the association with executive powers is an instrument of stability and progress of communities in Kosovo.
The Kosovo side insists for this institution to work in compliance with the laws, while the opposition in Kosovo has started protests warning for the division of Kosovo.
The head of the Kosovo Office in the Serb Government, Marko Djuric says that representatives of Belgrade in the talks with Pristina next week will go to Brussels in order for the Serb people in Kosovo to create the Association of Serb Communes.
Djuric says that the association will regulate the life of Serbs and it doesn't aim at dividing Kosovo.
"Why should we divide something which is ours as a whole. Belgrade wants the association to be funded by Serbia. This would enable a mechanism which would function according to the Serb system", he says.
Minister for Dialogue at the government of Kosovo, Edita Tahiri says that the delegation of Kosovo has a clear stance that the Association of Communes in the North must not have executive powers.
"These are our principles which we defend in these talks. To this I can add the fact that the Brussels agreement for the normalization clearly states that the association must be founded and function based on the laws of Kosovo and comply with the Constitution of the Republic of Kosovo", she says.
Minister Tahiri said that the Association will not be a third level of power in Kosovo.
"Association cannot have executive powers and they cannot serve as a third level of power in the Republic of Kosovo. In Kosovo, the Association of Serb Communes can be established without executive powers. It's a clear positioning and this will be made a reality", she says.
Self Determination: We do not allow the division of Kosovo
Activists of Self Determination have held a symbolic manifestation to show how Kosovo would look like with the Association of Communes and without it.
Activist of Self Determination, Nol Nushi, said that based on the maps, the association will include a considerable part of the territory of the country.
"The formalization of the creation of the association doesn't allow Kosovo to extend its sovereignty in almost 30% of the territory of the state", Nushi said. He added that the association is enabling some sort of a mini state and according to him, this is not an NGO, like it's being claimed.
According to Nushi, in the coming days, "Self Determination" will continue its action putting posters all over the territory of Kosovo and will hold meetings to discuss this issue.
A meeting is expected to take place on 25 August between Prime Minister of Kosovo, Isa Mustafa and Prime Minister of Serbia, Aleksandar Vucic.
This meeting is also expected to decide about the creation of the Association of Serb Communes. /ibna/