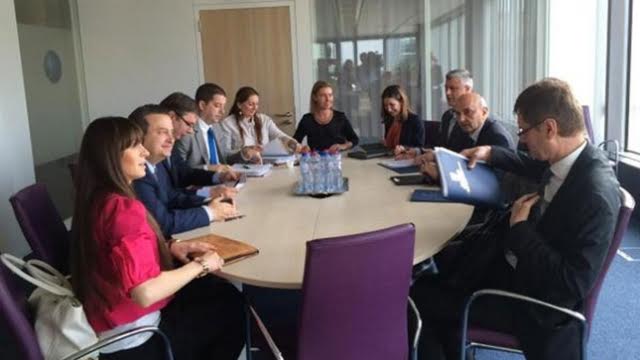 Pristina, 29 June 2015/Independent Balkan News Agency
By Elton Tota
The creation of the association of Serb communes will be the main topic of discussion in the meeting which will be held on Monday in Brussels between the Kosovo and Serb delegations.
The main topic is the legal status of the association. Kosovo doesn't make concessions on its role and doesn't want the association to have executive powers.
Kosovo's Foreign Minister, Hashim Thaci says that the association will not have executive powers and will work in the framework of the laws of the country.
"I can say that we have cemented our stance that the Association must be formed in line with the Constitution of Kosovo, with the law on local government of the Republic of Kosovo and other relevant European documents for local government", Thaci said.
Meanwhile, Goran Rakic, mayor of Northern Mitrovica, who has recently been present in Brussels, in the framework of the talks between Kosovo and Serbia, says that Serbs of Kosovo expect this association to have power on several segments.
"I expect this association to have concrete powers as far as urban planning, education and health are concerned. We are not asking anything more or impossible", Rakic says.
The leader of Serb List, Aleksandar Jablanovic says that the Association of Serb Communes will not be an NGO.
"Pristina has taken on the obligation of establishing the Association. Kosovo's law doesn't recognize the term "association", which means that it must be changed in order to allow the creation of the association. Of course, it will not be an NGO. As far as responsibilities are concerned, this will depend on the Brussels agreement", Jablanovic says.
Today's meeting between Prime Ministers Mustafa and Vucic, brokered by the head of EU diplomacy, Federica Mogherini, is expected to advance with topics that have already been discussed, such as the creation of the association of Serb communes, energy, telecom and freedom of movement. /ibna/