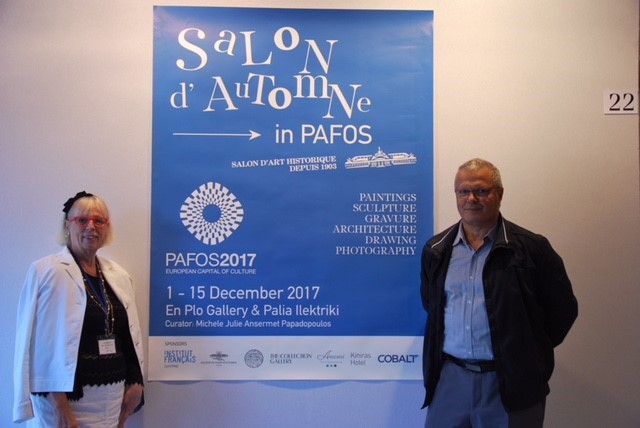 The annual Salon d 'Automne annual art exhibition, which is being presented in Paris for more than a hundred years, participates this year at the cultural events "Paphos European Capital of Culture 2017". At this year's Salon d 'Automne exhibition, important works of world art production were presented between 12 – 15 October in a specially designed space located on the Avenue de l'Elysées in downtown Paris.
More specifically, at the initiative of Michèle Ansermet-Papadopoulos, a French-Swiss painter who has been living and working in Paphos for the past 33 years, the Salon d 'Automne has connected this year's event with Paphos. In collaboration with the Cypriot Authorities and the French Institute of Cyprus, as well as private donors, it was possible to select works by 72 artists who exhibited in Paris and whose works will be transported to Cyprus for a joint exhibition with Cypriot artists.
An actor-exhibition in Cyprus will focus on the symbol of the diptych, which symbolizes two entities that create a whole. Symbolically reference is made to the hope for peace and reunification of Cyprus, as Michèle Ansermet-Papadopoulos herself mentions in her preface published in the Paris report.
In the exhibition of Cyprus, Greek Cypriot artist Andreas Charalambidis and Turkish Cypriot Asik Mène will create a joint diptych. At the same time, a total of 30 Cypriot artists – 20 Greek Cypriots and 10 Turkish Cypriots – will exhibit their works with the 72 foreign artists.
The exhibition will take place in Paphos and Kato Paphos, in two different locations, with two different opening ceremonies. On 1 December 2017 at the En Plo Gallery, and on 5 December at the Old Electric Gallery.
Moreover, in 2018, under the flag of Paphos 2017, two exhibitions will be held in Limassol and Nicosia in the COLLECTION gallery.
A poster with the announcement of the exhibition in Paphos was located in various parts of the exhibition area of ​​Paris./IBNA