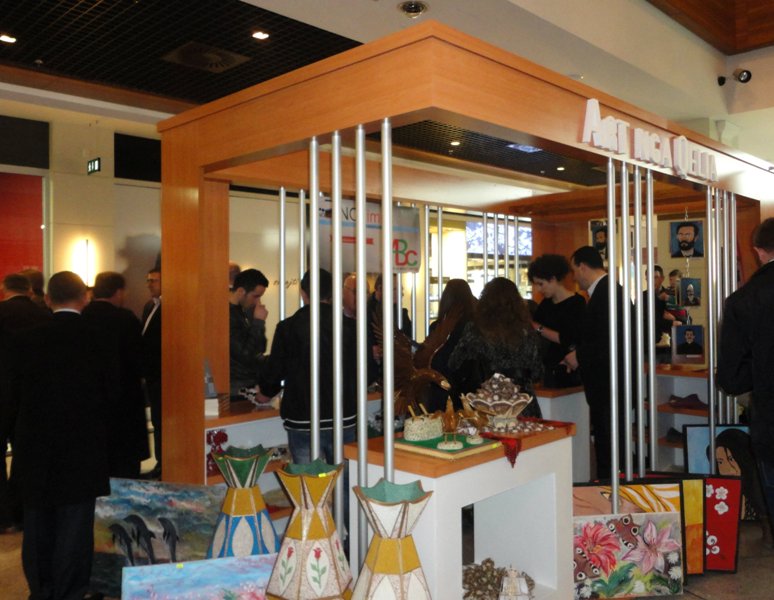 Tirana, February 10, 2014/Balkan Independent News Agency
Many people have ended up in those small premises, where one can barely see the sunlight and where one must spend a long time in order to suffer for a committed crime. All this long end endless time, one may often think that freedom is no longer impossible.
Therefore, some people  find something to do, because there's nothing better to spend the days inside those small cells where one must pay for what one has done.
Work is being done in these prison cells of Tirana and in several cases, in other districts too.
Works of art are being created to be sold to customers.
General Directorate of Prisons says that such incentive which was practiced by a few people in the past, is now being encouraged to be more organized. Today the goal has been met with the opening of the first craftsmanship workshop of inmates.
"Art from the cell" is the name of the workshop with works from inmates which has been inaugurated this weekend in one of the commercial centers in Tirana.
Built in the form of a cell, but in an artistic way, the inmates' workshop will operate as a proper shop, to come to the aid of inmates who want to sell their works.
Erselja Murati from the General Directorate of Prisons, says that such incentives comes in Albania for the first time, making a big step toward the integration of people who are in conflict with the law.
With the participation of senior officials of General Directorate of Prisons, representatives from civil society, media and art lovers participated in the inauguration ceremony.
In his opening speech, General Director of Prisons, Artur Zoto said that this incentive must be congratulated, because it's the first time that it comes to Albania.
"Today's activity is part of the incentives that we have undertaken, in order to meet the main objective that our institution has, the integration of inmates", said Artur Zoto.
"No Limits" Center says that this pilot project comes with the desire to offer to inmates an opportunity to be involved in craftsmanship.
Directorate of Prisons and "No Limits" center do not intervene in the business activity of inmates, as these are the ones who decide prices for their works.
Genc Pollo MP, former minister of Innovation, says: "With little efforts, life in prisons may become easier and more acceptable, going back to the productive work. Thus, once these inmates come out of prison, integration in society and the start of a new life will be easier."
The works of 56 people have been included in this activity and 25 of them are women and 5 are minors. The total number of inmates who are involved in craftsmanship in Albania amounts to 100.
Within a few hours from the opening of the shop, there was a lot of interest for people to buy these works of art. The incomes collected from sales are transferred to the inmates' bank accounts. /ibna/